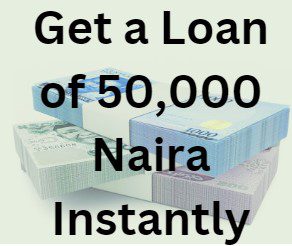 Last updated on August 14th, 2023 at 10:07 am
Do you need a loan of 50000 Naira? Are you in need of an instant loan of 50000 Naira but don't know where you can access it? If that's the case, then you are in the right place! This article aims to provide you with a comprehensive overview of the best solutions available to obtain a loan of 50000 Naira instantly.
We advise you to kindly go through the article to the end without skipping any parts to avoid missing out on any important information.
Now, let's dive!
I Need a Loan of 50000 Naira
We have received numerous inquiries from users seeking a loan of up to 50,000 Naira, actively looking for reliable sources to obtain it. Additionally, there is a significant number of users searching for the term "I need a loan of 50000 Naira."
Because of this, we see every reason to provide a solution by serving you with some of the legitimate platforms where you can successfully access loans of up to 50,000 Naira.
In today's fast-paced world, financial emergencies can arise unexpectedly, leaving many individuals in need of immediate funds. Whether it's an unexpected medical bill, a car repair, or simply a temporary cash shortfall, securing a loan quickly and conveniently becomes a top priority.
Thanks to the rapid growth of digital lending platforms. You can now access loans in your comfort zone and at any time. No more going through the traditional method of documentation or providing collateral.
While this convenience has undeniably made obtaining funds more efficient, it also brings forth a need for a deeper understanding of responsible borrowing and its impact on individuals and society as a whole.
Nevertheless, not all of these digital lending platforms allow users to borrow up to 50,000 Naira, especially when they are borrowing for the first time. Certain platforms may demand the establishment of a solid credit score before granting access to such a loan amount.
The good news is that we did thorough research and picked out some of these loan apps that allow users to borrow up to or even more than 50,000 Naira in Nigeria.
You will also find the following articles helpful:
List of Loan Apps That Give Loans up to 50,000 Naira
Okash Loan App
Okash is one of the top digital lending platforms in Nigeria. This microlending product, provided by Blue Ridge Microfinance Bank, started operating in Nigeria in 2019.
With Okash, users can access loans from N3,000 to N500,000 in minutes. No paperwork, collateral, or any form of documentation. All you have to do is download the app, sign up by providing some of the needed information, and access your desired loan.
This loan app has revolutionized the lending landscape in Nigeria with its user-friendly app and seamless lending process. The platform has become a lifeline for many individuals in need of quick and accessible financial assistance.
If you need a loan of up to N50,000, Okash is a platform you will love to try.
Do you want to borrow money from Okash?
Check out how to borrow money from Opay (Okash Loan) for a step-by-step guide.
Carbon Loan App
Carbon is another awesome loan app you can try out if you need a loan of up to N50,000.
This loan app is undoubtedly one of the most remarkable loan apps available on the market today. If you find yourself in need of a loan, whether it's a modest amount like N50,000 or a more substantial sum, Carbon has got you covered. The convenience and ease of accessing financial assistance through this app are unparalleled.
One of the most appealing aspects of Carbon is the flexibility it offers in terms of loan amounts. Whether you need a small personal loan to cover unexpected expenses or a more substantial sum to invest in your business, Carbon can cater to your needs.
With the platform, you can get personal loan amounts up to N1,000,000. They also offer business loans of up to N20,000,000, which can be accessible within 48 hours.
Their Interest rate ranges from 1.75% – 30%, with an equivalent monthly interest rate of 1–21%, and their loan duration is from 30 days to 12 months.
EaseMoni Loan App
EaseMoni is one of the recent loan apps on the market that offers exceptional services. The loan app was launched in 2021 and has rapidly grown, covering millions of customers.
They offer user-friendly services, enabling borrowers to conveniently access funds anytime and anywhere. What particularly impresses me about this loan app is its instant approval for loans, eliminating any form of stress or cumbersome processes.
The lowest loan amount you can access from EaseMoni is N3,000, and the highest amount is N1,000,000. Their interest rate ranges from 5% to 10% monthly, and their APR is 60% to 120%. The loan duration ranges from 91 days to 365 days.
Branch Loan App
Branch Loan App can not be left out when it comes to loans that offer magnificent services. The platform is one of the leading lending apps and one of the most downloaded loan apps in Nigeria. They currently boast over 4 million customers and have issued over 29 million loans.
With Branch, users can borrow from N1,000 to N200,000 and choose a repayment period spanning from 4 to 40 weeks. As you establish a positive credit history with Branch, you gain access to even higher loan amounts.
All loan processes, including approval, disbursement, and repayment, are conveniently handled directly through the app.
Branch interest ranges from 15% to 34%, and their loan duration is 4 to 40 weeks.
KiaKia
Kiakia is another awesome loan app to try if you need a loan of up to 50,000 Naira in Nigeria.
With its user-friendly interface and efficient loan processing system, Kiakia has become a popular choice among Nigerians seeking quick financial assistance.
The platform offers on-site services with AI-powered technology that facilitates the utilization of non-traditional data to perform credit scoring, enabling individuals and small businesses to access loans conveniently.
At Kiakia, the maximum and minimum amounts users can borrow depend on their income level, employment type, and loan request. Their interest rates range from as low as 12% to as high as 40% based on 6 to 18 months of tenure.
FairMoney
With FairMoney, your financial worries can now take a backseat, as this innovative platform offers you the opportunity to access loans ranging up to an impressive N3,000,000.
Whether you need extra funds for a business expansion, educational pursuits, medical emergencies, or any other personal expenses, FairMoney has got you covered.
However, just like KiaKia and other loan apps, the amount of money you can borrow from FairMoney for the first time depends on your credit score, income level, and the level of your transaction.
Their loan duration is up to 24 months, and their interest rate is between 2.5% and 30%.
Renmoney
Renmoney, a pioneer in the Nigerian financial technology space, has been providing convenient and accessible lending solutions since its inception in 2012.
As one of the oldest loan apps in Nigeria, Renmoney has solidified its position as a trusted financial partner for millions of Nigerians seeking loans and other financial services.
They offer loans from N6,000 up to N6,000,000, which can be paid back within 3 to 24 months. No guarantor, collateral, or any form of documentation. Their interest rate ranges from 2.4% to 9.33%, and the maximum Annual Percentage Rate (APR) is 35.76%.
Conclusion
If you happen to be among those searching "I need a loan of 50000 Naira," I believe that this article has provided a suitable solution for you.
There are several lenders aside from the ones mentioned above that give loans up to 50,000 Naira. However, it is always important to do your research and compare different offers before choosing anyone. Make sure that you understand the terms and conditions of the loan and that you can afford to repay it.
In addition to that, make sure you build a good credit score. This will enable you to stand a high chance of getting your loan approved.
Do you have something to say? Don't forget to use the comment section below!
Source: TrendingNow.ng.