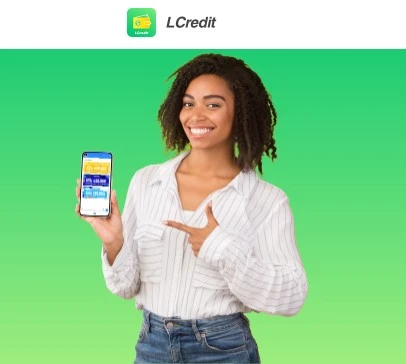 Last updated on May 26th, 2023 at 02:09 pm
Welcome to Trending Now! In this article, we will discuss everything you need to know about the LCredit loan app and guide you through how you can download the loan app and get your loan in minutes. So if this is what you are looking for, continue reading; you are in the right place!
About LCredit
LCredit is one of the new loan apps in Nigeria. The platform provides fast and convenient loans to individuals and businesses needing financial assistance.
This loan app provides borrowers with the opportunity to apply for loans online and receive funding instantly, from N5,000 up to N50,000.
The company offers flexible loan repayment options to alleviate the burden of debt. They take pride in giving their borrowers the freedom to choose a repayment term that suits their unique financial circumstances, whether for a few weeks or several months.
In addition, LCredit uses a proprietary credit scoring system to determine loan eligibility and interest rates. This allows the platform to offer some of the most competitive rates in the industry.
Unlike other loan apps on the market, you can access loans from LCredit without going through the stress of providing collateral or any form of paperwork or documentation. All you need is a bank verification number (BVN) and an Android phone.
Note: If you want to borrow money without providing your BVN, check out this awesome article concerning the 7 best loan apps without BVN in Nigeria.
LCredit Loan App
LCredit does 100% of its transactions via its loan app, including borrowing and repayment. The app is available for download on both Android and iOS devices.
Without a doubt, the LCredit loan app uses innovative technology to make loan applications simple and convenient. The app is user-friendly, and the loan application process is straightforward.
Users can apply for loans in just a few minutes by filling out an application form that requires basic information about their employment, income, and bank account details.
YOU MAY ALSO LIKE:
LCredit Loan App Download
To download the LCredit loan app, follow the simple steps below:
1. Visit LCredit's official website
2. Click on the bottom showing "Get It On Google Play".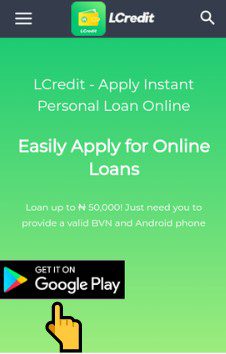 3. The system will automatically download a file. Click on it to install the LCredit loan app on your device.
How to Apply For LCredit Loan
Applying for loans from LCredit is a simple and uncomplicated process. Rest assured that the loan app is already installed on your device. All you have to do is open the app, fill out the basic information required, and finally select the loan offer of your choice, and you are done.
The loan will be processed and sent to your account in minutes.
How to Repay LCredit Loan
To pay back your LCredit loan, follow the steps below:
1. log in to your LCredit loan app.
2. Make sure you have an active loan on the Lcredit app and that you are either approaching or have already reached the due date for repayment.
3. Upon opening the app, click on the "Loan bill" icon on the central bottom of the app.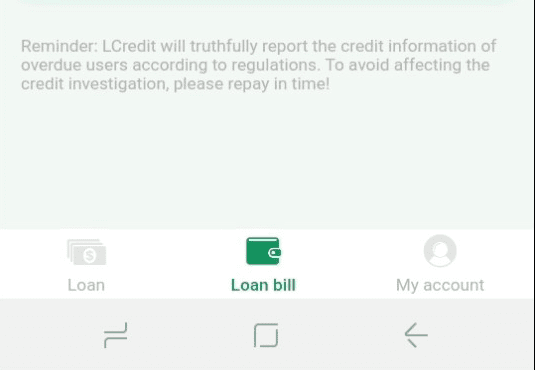 4. The amount of money you are owing will display on the screen. Click on "Repay now" to proceed.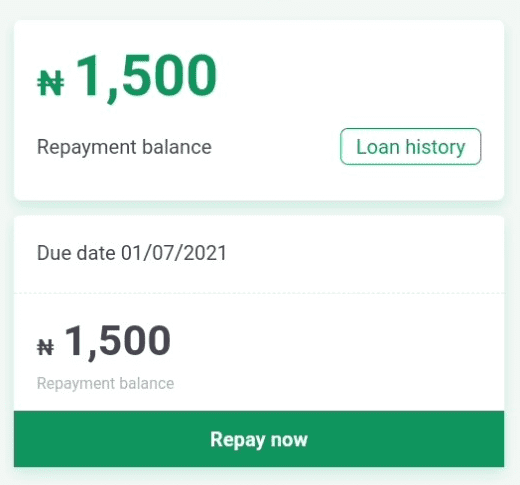 5. LCredit provides customers with a variety of payment options to ensure convenience and flexibility. You can choose to pay with your card, offline transfer, or with a USSD code.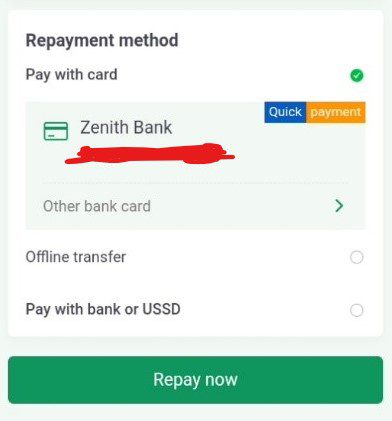 Simply select your preferred payment method and click "Repay now" to complete the transaction.
Also, check Rechargeable Fans: Discover The Best Brand And Prices.
LCredit Loan App Interest Rates
LCredit's interest rates are competitive and affordable, and there are no hidden charges or fees. The platform uses a proprietary credit scoring system to determine loan eligibility and interest rates, which allows it to offer some of the most competitive rates in the industry.
In general, they offer a minimum of 0.1% and a maximum of 1% per day and an APR of 36 to 300% per year.
LCredit Loan App: Roundup
Borrowing money from digital lending apps is one of the best decisions you can make to address your financial difficulties. However, it is important to note that before applying for a loan from any app, you should conduct thorough research about the app before taking a decision, to be safe.
Additionally, be sure to read and understand all the terms and conditions of the loan offer before accepting it. Remember, taking on debt is a serious commitment, and it's essential to borrow responsibly.
Also, you should carefully consider your financial situation and make sure that taking out a loan is the right decision for you.
By now, it's good to conclude that you have gone through this piece of information and understand everything you need to know about the LCredit loan app.
Now let's hear from you!
What do you have to say about the LCredit loan app?
Before you leave, don't forget to check out the article below:
Top 10 Apps That Pay You Real Money In Nigeria
Source: TrendingNow.ng