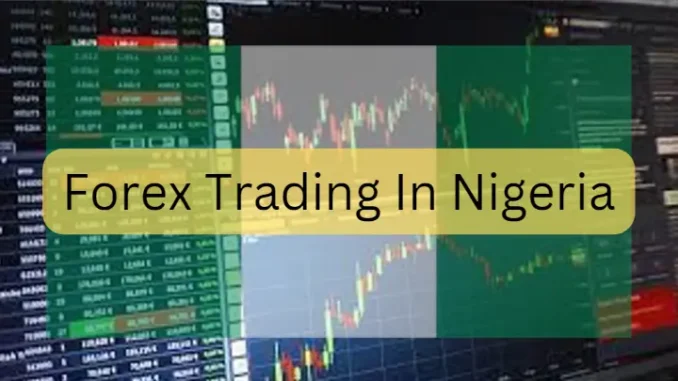 Do you want to start or know about forex trading in Nigeria? If yes, then continue reading. This article explores the ins and outs of forex trading in Nigeria, including the market, strategies, and regulations that govern this popular investment option.
Also, you will find out how to successfully start forex trading in Nigeria and make profitable trades in this article. So, take a breath and get the ball rolling by reading between the lines!
Outlines:
Introduction to Forex Trading in Nigeria
I believe you already know what forex trading is all about because you must have heard of it. Well, to make you understand better, let me throw more light.
Forex trading also referred to as foreign exchange trading, Forex, FX, or currency market, is a vast and highly decentralized marketplace that facilitates the buying, selling, and exchanging of currencies on a global scale.
It functions without a central exchange, relying instead on a vast network of financial institutions, brokers, and dealers, to execute trades on behalf of investors.
The foreign exchange market revolves around establishing exchange rates for different currencies, which are impacted by a multitude of intricate economic, political, and societal factors. Forex traders engage in buying and selling currencies at either prevailing or predetermined prices, to capitalize on fluctuations in exchange rates that occur over time.
Without a doubt, the forex market is the largest financial market in the world, with a daily trading volume of over $6 trillion, dwarfing all other financial markets, including the credit market. Its sheer size and liquidity make it an attractive arena for traders seeking to capitalize on global economic trends and market shifts.
In Nigeria, forex trading was liberalized by the Central Bank of Nigeria (CBN) in 1995 and has become increasingly popular over the past few years. With its potential for high returns and accessibility through online platforms, forex trading has attracted a growing number of investors and traders in Nigeria.
Having known about forex trading, let's continue and discuss other important things you need to know.
YOU MAY ALSO LIKE:
Profitability of Forex Trading in Nigeria
Many people keep asking whether forex trading is profitable in Nigeria. Well, just like many other countries, forex trading can be a profitable venture in Nigeria. A lot of people are making a huge amount of money trading forex in Nigeria.
My first encounter with forex trading was during my days in the university when I was 200 level. A friend of mine introduced me to it. Indeed, it was a strange thing to me and I was finding it so difficult to believe it can yield me some money.
However, I was so interested when I learned that this dude is making crazy income in forex trading. So, I quickly jumped on it trying to understand how the system works.
As a curious and determined student, I spent countless hours studying the art of forex trading. I read books, watched tutorial videos, and attended webinars to gain more knowledge about this fascinating field. At first, I found it challenging to grasp some of the technical jargon and concepts. But, as I continued to learn and practice, everything began to make sense.
I opened my first forex trading account with a small amount of money that I could afford to lose. I started with a demo account to practice my strategies and perfect my skills. It was not long before I began to make profits consistently.
Today, I can handsomely tell you that forex trading is a profitable venture in Nigeria. However, it is a high-risk investment and there is no guarantee of profit. The profitability of forex trading depends on various factors, such as market conditions, economic events, and the trader's skills, experience, and risk management strategies.
So, how can you successfully start forex trading in Nigeria?
This has become the most important question to ask for anyone willing to venture into forex trading, not only in Nigeria but in other parts of the world.
How To Start Forex Trading in Nigeria
If you are in Nigeria and want to start forex trading, here are some steps you can take:
Step 1: Learn the basics
If you want to succeed in this sector, starting with the fundamentals is the first and most important step to take into consideration. It can help you comprehend the main ideas, tactics, and other crucial elements of forex trading.
Some of the important concepts you should care to learn are currency pairs, leverage, technical analysis, fundamental analysis, risk management, and also about trading platforms.
Step 2: Choose a broker
Choosing the right forex broker is essential to ensure a successful and safe trading experience. It can help you save money, reduce risk, and improve your trading performance.
Here are some key factors to consider when selecting a Forex broker:
The broker's trading conditions
The security of the platform
Customer Service
The quality of the platform
The reputation of the Forex broker
Fees and Commissions of the broker
Withdrawal options
Step 3: Open a demo account
If you want to get it right as a new Forex trader, opening a demo account is another important step you should not underlook.
A demo account is a practice account that allows you to trade in a simulated environment with virtual money, giving you a risk-free opportunity to learn how to trade forex.
Below are the reasons why opening a demo account is crucial, especially if you are new to the forex market:
Familiarization with the trading platform: It allows you to familiarize yourself with the trading platform and gain knowledge of how to execute trades, place orders, and manage risk.
Experiment with different trading methods: You can test out various trading methods and strategies without putting any actual money at risk. You can experiment with different indicators, timeframes, and trading styles to see what works best for you.
Confidence building: It fosters your ability to trade with confidence. With this, you can gain experience and see positive results, enabling you to feel more comfortable and confident when you start trading with real money.
Learning from mistakes: It allows you to learn from your mistakes without incurring any financial losses. This can be invaluable in helping you improve your trading skills and avoid costly mistakes in the future.
Step 4: Fund your account
After learning all the basic things you need to know and choosing the right forex broker, it is time to put real cash in your account!
At this stage, it's good to conclude that you already understand the risk involved in forex trading and how to manage the risk. Remember to fund your account with what you can afford to lose.
Step 5: Start trading
It's time to start making money! This stage involves buying and selling currencies on the foreign exchange market in other to generate income.
Step 6: Keep learning
There is a saying that learning is a continuous process. The most successful people of our time are people who continue to learn and adapt to new developments. This saying is fully applicable to forex trading. As you continue to learn, you will keep on understanding the ins and outs of forex trading including new adaptations.
Best Forex Brokers in Nigeria
Below are some of the best forex brokers you can try out in Nigeria:
Best Forex Brokers in Nigeria
Forex Trading Sessions in Nigeria Time
The foreign exchange (Forex) market is open for trading round-the-clock, five days a week, allowing traders to engage in the market at their convenience. Nonetheless, certain trading sessions are deemed to be more dynamic and present superior prospects for traders.
In Nigeria, Forex trading is divided into three sessions, London Session (9:00 AM – 5:00 PM Nigerian Time), New York Session (2:00 PM – 10:00 PM Nigerian Time), and Asian Session (12:00 AM – 8:00 AM Nigerian Time).
London Session (9:00 AM – 5:00 PM Nigerian Time)
The London session is the most active and liquid in the Forex market, with significant market volatility and trading volume. This session overlaps with the end of the Asian session and the beginning of the New York session, which makes it the most important trading session.
New York Session (2:00 PM – 10:00 PM Nigerian Time)
The New York session is the second most active trading session in the Forex market, with high liquidity and volatility. This session overlaps with the end of the London session and the beginning of the Asian session, which makes it a good time to trade major currency pairs.
Asian Session (12:00 AM – 8:00 AM Nigerian Time)
The Asian session is the least active trading session in the Forex market, with lower liquidity and volatility. Yet, it is still a crucial session because it establishes the tone for the trading day ahead. This session is particularly important for traders who focus on trading the JPY, AUD, and NZD currency pairs.
Risks and Challenges of Forex Trading
Forex trading is accompanied by a lot of benefits. Many people are making a decent income in this field, but I must let you know that forex trading comes with a lot of risks and challenges that should be carefully considered.
One of the most prominent risks associated with Forex trading is the potential loss of funds. Despite the intent of market participants to achieve financial gains and success through trading activities, empirical data suggests that the average Forex trader is more likely to experience financial losses.
So, what are the variations of risk factors in forex trading that lead people to losses?
If you care to know, below are the risk and challenges associated with forex trading. I may not explain them in detail but feel free to reach out to me in the comment section if you do not understand any of them.
Market volatility
Leverage
Lack of transparency
High competition
Complexity
Regulatory risks
Emotional factors.
Is Forex Trading Legal in Nigeria?
Many people keep asking whether forex trading is legal in Nigeria. My straight answer to the question is YES. The Central Bank of Nigeria (CBN) regulates and oversees the Forex market in the country.
However, It is imperative to acknowledge that adherence to specific regulations and guidelines is mandatory for traders and brokers to legally operate in Nigeria.
Therefore, we strongly recommend that you should seek counsel from a certified financial expert or licensed Forex broker in Nigeria to ensure that you are trading in compliance with the relevant laws and regulations.
Roundup
At this point, it's good to assume you have gone through this article and understand everything you need to know about forex trading in Nigeria.
Are we correct?
If you are aspiring to become a proficient Forex trader in Nigeria, here are some of the key elements of this article you should not underlook:
How to successfully start forex trading in Nigeria
Best Forex Brokers in Nigeria
Risks and challenges of Forex trading
Forex trading sessions in Nigeria.
You can also check this article concerning the top 10 richest forex traders in Nigeria (Latest Update), and learn about the strategies that helped them achieve success.
Among all, if there is anything you would love to know about forex trading in Nigeria that we failed to cover, please don't hesitate to comment below. We will be glad to attend to you, thanks.
Source: Trendingnow.ng