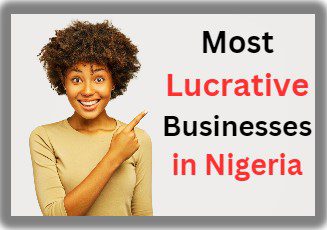 Last updated on August 13th, 2023 at 06:42 pm
Welcome to Trending Now! Are you looking for a lucrative business to start in Nigeria? If the answer is yes, then you are in the right place. Continue reading. This article aims to provide you with the top 10 most lucrative businesses in Nigeria right now.
In addition, we will dedicate ample time to thoroughly elucidate these businesses, ensuring you understand each one comprehensively.
We advise you to kindly go through the article to the end without skipping any parts to avoid missing out on any important information.
Lucrative Business in Nigeria: Introduction
Having the enthusiasm to start a business is a very nice move. Whether you are a government worker, a student, or involved in different endeavours, starting a business can unlock your potential earnings, support your work, and even make you your boss.
Nigeria, being the most populated African country, is blessed with excellent opportunities. The country boasts a vibrant and dynamic economy that continues to attract entrepreneurs and investors alike.
With its abundant natural resources, growing population, and rapidly expanding middle class, the business landscape in Nigeria is teeming with opportunities.
However, it's important to note that not all of these enterprises guarantee profitability. While certain ventures have the potential to yield substantial returns both in the present and in the future, others might not justify the investment of your valuable time.
Because of this realization, it is always recommended that before venturing into business, you do yourself a favour by going for a profitable business.
Choosing a lucrative business in Nigeria takes on profound significance in the context of business. It is the beginning of your success in business and also the foundation for stability, growth, and the ability to weather the storms that are an inherent part of the business landscape.
The good news is that we did some possible research and also compared different data to serve you with some of the most lucrative business ideas in Nigeria currently.
These ventures have not only shown resilience in the face of economic challenges but have also demonstrated impressive growth potential in a competitive market.
ALSO CHECK:
Top 10 Most Lucrative Businesses in Nigeria Right Now
Below is the list of the top 10 most lucrative businesses in Nigeria right now:
1. Agriculture
Agriculture is one of the most lucrative business ideas in Nigeria. It has been a cornerstone of Nigeria's economy for a long time now, and presently, its potential for profitability is greater than ever before.
As we all know, the global population continues to surge daily. Amidst this growth, it's essential to recognize that agriculture stands as the sole foundation of our planet's food provision.
Irrespective of your dining location or meal choice, it's essential to remember that the components of your food have origins. Every path ultimately traces back to the realm of agriculture.
If you ever wondered why food is becoming more expensive every day, you should, first of all, know that all humans depend on food for survival, and as the population increases, the demand increases. This simple equation lies at the heart of a complex web of factors that contribute to the rising costs of sustenance.
It's also good to mention that other factors, such as government policies, inflation, land availability and quality, etc., also contribute to the rising cost of agricultural products.
Several factors contribute to this attractiveness, making agriculture a lucrative business in Nigeria.
Some of the agricultural businesses in Nigeria that are seriously making money for people are:
Cassava Farming
Poultry Farming
Pig Farming
Maize Farming
Rice Farming
Fish Farming
Beans farming
Bee Farming
Snail Farming
Livestock Farming
Yam Farming
Groundnut Farming
You can refer to this article about how to start a farming business in Nigeria to learn and understand more about starting an agricultural business.
2. Oil and Gas Business
Another one on the list of the top 10 most lucrative businesses to start in Nigeria is the oil and gas business.
This sector is undeniably one of the most profitable industries to venture into, particularly in a country like Nigeria, where the nation's economy has long been heavily dependent on the revenue generated from oil and gas resources.
You can also look at it from this perspective: we heavily depend on fuel, kerosene, diesel, and gas, among others, for activities like cooking, transportation, electricity, and the powering of various industries that form the backbone of our modern civilization.
Oil and gas have undoubtedly played a pivotal role in shaping the world as we know it today, enabling progress, development, and convenience on an unprecedented scale.
Owing to these factors, the oil and gas sector is no doubt a lucrative business in Nigeria.
3. Real Estate business
Real estate is another business idea that is currently breeding millionaires in the country.
This business has proven time and again to be not just a venture but a pathway to remarkable financial success.
With the growing population and urbanization, the demand for housing, commercial spaces, and infrastructure is rapidly increasing.
One good fact about this business is that, as long as people are migrating to urban centres for better opportunities, there will always be a need for residential and commercial properties.
This high demand creates an environment ripe for real estate investors to capitalize on and make awesome money.
4. Education Business
The educational business is no doubt a business that will never become obsolete. The system is always evolving, giving room for continued learning.
As we all know, education is considered a fundamental right in Nigeria. The joy and aspiration of nearly every parent is to provide a quality education for their children.
With a population of over 200 million, the demand for quality education is consistently on the rise. People are willing to invest a significant portion of their income to ensure they or their children receive a strong foundation for their future.
This demand creates a steady stream of potential customers for various educational services, making education a lucrative business in Nigeria.
Certainly, there are various educational businesses in Nigeria that one can venture into and start making cool money. A few to mention are private schools, tutoring centers, computer training institutes, music schools, dance academies, online education platforms, driving schools, and early childhood development centers, among others.
5. E-commerce business
E-commerce, short for "Electronic commerce," cannot be left out of the list of the most lucrative business ideas in Nigeria currently.
In case you don't know, e-commerce refers to the process of buying and selling goods and services online. Some examples of E-commerce stores in Nigeria are Jumia, Konga, and Jiji.
With a blend of technological advancement, changing consumer behaviour, and a burgeoning middle class, the E-commerce sector has positioned itself as a lucrative avenue for those looking to start a business in Nigeria.
One of the primary factors contributing to the profitability of E-commerce in Nigeria is the rapid growth in internet penetration. The increasing availability and affordability of smartphones, coupled with improved internet infrastructure, have resulted in more Nigerians gaining access to the internet.
According to the statistics, a growing number of Nigerians are now shifting towards online shopping.
This technology has made it easier to the extent that you can shop from the comfort of your own home at any time of day or night. You don't have to worry about traffic, parking, or crowds. Also, online shopping offers a wide selection of goods and services. You have the opportunity to select products from all over the world, not just from local stores in your area.
Because of all these reasons and several other factors, many people prefer to buy online, making e-commerce a lucrative business in Nigeria.
6. Transportation business
Here, I may not love to over-emphasize or explain much because it's what we are very familiar with.
As long as humans continue to travel from place to place, the transportation business will remain profitable and successful.
There are many types of transportation businesses available in Nigeria. You can decide to choose from any of them based on your resources, capabilities, and goals.
One thing I will advise is that before venturing into a transportation business, you should do thorough market research. This will enable you to understand the demand for transportation services in your chosen niche and location, identify your target audience and their specific transportation needs, and understand the competition.
7. Hotel Business
The hotel business is another lucrative business in Nigeria that you should consider.
It's one of the coolest ways of making money, not just in Nigeria but in some other parts of the world.
Just like we mentioned in the transportation business, as long as humans continue to travel from place to place or partake in various activities like tourism, luxury experiences, etc., there will be a consistent demand for accommodation, presenting a golden opportunity for hotel owners to tap into a steady stream of earnings.
To become successful in this business, you should choose a potential location that is easily accessible and attracts your target audience. Also, ensure your property is well-designed, aesthetically pleasing, and equipped with modern amenities.
In addition to that, you should provide exceptional customer service to create positive guest experiences and build a loyal customer base.
8. Sales of Phones Business
This list will be incomplete if I do not mention the phone sales business.
The use of smartphones, or phones in general, is rapidly increasing. Also, the phone industry is constantly evolving, with new features and models being released regularly. As such, people are always changing their phones or buying the latest phones that meet their standards.
This creates opportunities for entrepreneurs to venture into the phone sales business and make money.
9. Restaurant Business
This is another lucrative business in Nigeria!
At least, I will be 80% right if I tell you that anything that has to do with food is financially successful or lucrative. Of course, how well a business does depends on a lot of things. So, not every food-related idea will make loads of money in Nigeria.
In the context of the restaurant business, we all need to eat to stay alive, right? So, the demand for restaurants will always be there.
All you need to do is find a good spot and start a nice restaurant. Oh, and don't forget to make really yummy food. That way, you'll get customers coming back for more, and word about your tasty food will spread, bringing in even more customers.
10. Rental Service
Last but not least on the list of the top 10 most lucrative businesses in Nigeria is the rental service business.
I personally belong here, and I can confidently tell you that it's really a cool money-making business in Nigeria.
As long as events such as weddings, birthday parties, corporate events, concerts and music festivals, religious events, funerals, cultural and traditional celebrations, and so on never cease to take place, the rental service business will always remain in demand.
What You Should Know When Starting a Business
Choosing a lucrative business in Nigeria is a wise step, but approaching it in the wrong way can lead to disappointment and setbacks. Below is a list of what you should know when starting a business in Nigeria:
Do your research
Write a business plan
Get funding
Choose the right business structure
Get the right permits and licenses
Hire the right team
Manage your finances carefully
Market your business
Provide excellent customer service.
Lucrative Business in Nigeria: Conclusion
So far, this is our list and all we have to tell you about the lucrative business in Nigeria. We'll keep adding new and trending businesses to this page for the best outcomes.
I believe by now you have gone through the article and successfully chosen a business idea that is best for you. Whichever you choose, we hope you achieve a successful business life.
Do you have a question to ask? Are you confused anywhere or have an opinion? Don't forget to use the comment section below!
Source: TrendingNow.ng.