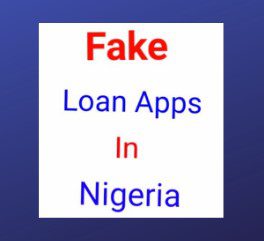 List Of Fake Loan Apps In Nigeria
Welcome to Trending Now! In this article, we will be bringing to you the list of fake loan apps in Nigeria. We will also discuss how to identify fake loan apps, legit loan apps, and some other important things you need to know about loan apps in Nigeria.
Loan Apps
In today's world, loan apps have made it easy to borrow money and solve problems in your comfort zone. Instead of looking for someone or disturbing your neighbours for a loan whenever you are out of cash, you can grab your phone or computer and easily access a loan via loan apps.
I can clearly remember during my 100L in the university, my supposed school fees money was embezzled by a friend of mine who worked in a cybercafe. I entrusted him with the money for about 2 weeks because I thought he will not misbehave hence we are intimate.
However, it was the other side of the story. He did not pay but rather designed a fake receipt that looks very similar to that of my school and present it to me. I comfortably kept it in a safe place thinking I have cleared the aspect of the school fee until during a course registration time when a discovered he did not pay.
At this point, I have to source out the required amount of money and pay in other to avoid stories that touch. It wasn't easy for me until my coursemate suggested I should borrow from the loan app and boom everything went smoothly, and I cleared the fee!
Do you see have helpful it is?
Notwithstanding, some of these loan apps Lenders are fake. They are also called loan sharks as they are specially designed to scam poor and innocent souls who are unfortunate enough to be a victim.
It will even interest you to know that the number of fake loan apps in Nigeria is rapidly increasing. So it's a good idea to know the difference between fake and legit loan apps and Lenders in other to avoid being a victim.
YOU MAY ALSO LIKE:
How to identify fake loan apps in Nigeria
Having known this, how can one identify fake loan apps in Nigeria? If you or any of your relative is planning to acquire a loan online I think this is the first question to ask.
Most of these loan apps are not what they claim to be, so it can be pretty difficult to identify which one is fake or legit.
However, you should worry not, we have carefully undergone proper research in other to bring to you the sure ways to identify fake loan apps in Nigeria:
Fake loan apps usually have a shorter loan duration. In most cases 7- 14 days instead of 60 days according to the law
They access numbers and photos in your device and use them for threats and harassment in case of any inconvenience
High-interest rate
Harsh and rude way of treating customers
Most of the fake loan apps don't even offer loans, rather they refer you to other loan apps and charge you for the services. In essence, you pay double charges (from the fake app and the app you are referred to).
In most cases, no contact details
Some of them usually deduct interest rates before giving the loan
Pressurizing customers to borrow or pay back even before the appropriate repayment date
Undisclosed charges
No physical office, and in most cases no social media platforms
Unsecured websites. Some of them don't even have a website
Harassment of customers online.
List of loan apps banned in Nigeria
What is Nigeria doing about the issue of fake loan apps?
The Federal Government of Nigeria 2022 raised a red flag on these fake digital lending apps also known as loan sharks. This movement was carried up by the National Information and Technology Development Agency (NITDA), Federal Competition and Consumer Protection Commission (FCCPC), and the Independent Corrupt Practices and Related Offences Commission (ICPC) in collaboration with the Nigerian police force.
According to the bodies, many of these banned loan apps are operating illegally. They are not licensed by the Central Bank of Nigeria (CBN) or registered with the Corporate Affairs Commission (CAC).
In the statement made by the Executive Vice Chairman/Chief Executive Officer of the FCCPC, Babatunde Irukera, these bodies have been monitoring these fake digital lenders since 2020 when the country was on lockdown due to Covid19 pandemic.
Because of the lockdown, people needed quick and instant loans for sustainability and these fake digital lenders used the opportunity for illegal activities.
These banned loan apps are also included in the list of fake loan apps in Nigeria which we are going to list below.
List Of Fake Loan Apps In Nigeria
GoCash Loan App
Cash Wallet Loan App
Gotocash Loan App
BorrowNow Loan App
EasyCredit Loan App
Speedy Choice Loan App
Ease Cash Loan App
GetCash Loan App
Soko Loan App
9ja Cash Loan App
Aim Loan App
LCredit Loan App
Kashkash Loan App
EasyMoni Loan App
ForNaira Loan App
Cash Mail Loan App
LendCash Loan App
FastMoney Loan App
Palmcash Loan App
9Credit Loan App
AngelLoan App
CycleCash Loan App
Rapid Naira Loan App
Speedy Choice Loan App
Ajeloan App
GotCash Loan App
GGMoney Loan App
SuperCash Loan App
LionCash Loan App
NairaPlus Loan App
NowCash Loan App
NCash Loan App
CashFarm Loan App
Miko Loan App
Ucredit Loan App
iCoin Loan App
Oxloan Loan App
iCredit Loan App
XCredit Loan App
CreditHall Loan App
Lucky Loan App
CashRain Loan App
best loan apps in Nigeria
Choosing the best loan app in Nigeria is relatively challenging, especially if you have little or no knowledge about loan apps. Knowing this, we did possible research, compared data from different sources, and developed an informative article highlighting the top 8 best loan apps in Nigeria. You can click here to access the article.
Final thoughts
The development of loan apps has helped a lot of souls. Many people used these digital lending apps and settled problems that would have caused them a lot. Some even borrow from these platforms and start-up businesses.
However, it's a good idea to know which of these loan apps are fake in other to avoid being a victim of loan sharks.
Before you borrow from any lending app, it's advisable to know their Charges, Key fact statements, security standards, and other important aspects. You can even do more research to see reviews and ratings about the company.
As of now, this is all we have to tell you about fake loan apps in Nigeria. We will keep on updating this page for further changes. Thanks for your time!
Source: TendingNow.ng