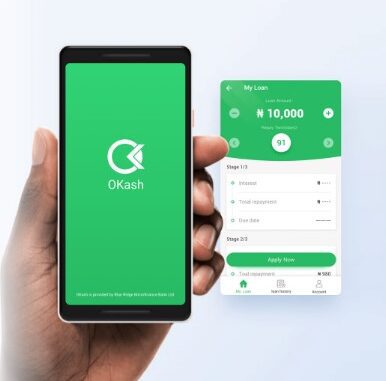 Last updated on September 16th, 2023 at 02:54 pm
Welcome to Trending Now! Do you want to borrow money from Okash or want to know more about the loan app? If the answer is yes, then you've landed on the right page. This article contains everything you need to know about the Okash loan app, including its interest rate, loan requirements, USSD code, and how you can successfully download the loan app and borrow money in minutes.
We kindly advise you to go through this article without skipping any part to be fully aware of all the important things you need to know about the Okash loan app.
Now, let's dive!
About Okash Loan App
Okash Loan is one of the leading mobile-based digital lending platforms in Nigeria, owned by Blue Ridge Microfinance Bank. The loan app was founded in 2015 with the goal of providing quick and convenient access to short-term loans for individuals facing urgent financial needs or unexpected expenses.
This platform aims to streamline the loan application and approval process, making it faster and more accessible than traditional lending institutions like banks.
So far, the Okash Loan app is operating in Nigeria, Kenya, and India. They are currently counting over 5 Million app downloads just from the Google Play Store.
This loan app is no doubt a great option for people looking for the best loan apps in Nigeria. Their upstanding features, such as quick loan approval, flexible loan amounts, transparent terms, convenience, an improved credit score, and more, set them ahead of many loan apps in the industry.
With the Okash loan app, users are entitled to borrow from N3,000 up to N500,000 and can pay it back within the duration of 91 to 365 days.
Okash Loan Interest Rate
Okash offers competitive interest rates in the market. They charge 1.2% per day for a fixed term of 15 days.
For instance, if you borrow N20,000 from Okash with a 1.2% daily interest rate for a 15-day term, you would need to repay N23,600 at the end of the 15 days. This total amount includes both the principal amount borrowed and the interest charges.
This is how it is calculated:
N20,000 (loan amount) x 1.2% (daily interest rate) = N240 (daily interest).
N240 (daily interest) x 15 (number of days in the term) = N3,600 (total interest).
N20,000 (loan amount) + N3,600 (total interest) = N23,600.
Okash Loan App Requirements
I would love to let you know that Okash doesn't bother its users with lots of eligibility requirements, like traditional banks, where you need to provide a lot of requirements, such as collateral, a guarantor, and other forms of documentation, just to access a loan.
Also, OKash does not limit your work, income, or other conditions. They made everything easy so that users could access loans of their choice anytime and in their comfort zone.
Below are the few eligible requirements you must meet to borrow money from the Okash Loan App:
You must be at least 20 years old and not more than 55 years old
You must have an Android device with access to the internet
You must have a valid means of identification
You must have a valid bank account
You must have a valid ATM card
You need to have an active email
You must have a bank verification number (BVN).
You May Also Like:
Okash Loan App Download
Okash has simplified the process of borrowing money with their loan app. They have made everything so straightforward that users can easily navigate through the app and handsomely carry out their borrowing activities.
With the Okash loan app, users can have access to easy, instant-approval loans at any time and anywhere. No provision of collateral, a guarantor, or any form of documentation.
All their services, including account opening, loan application, loan repayment, and more, are conveniently carried out through their loan app.
To download the app, simply head over to the Google Play Store, search for the app, and click the install button as shown in the image below.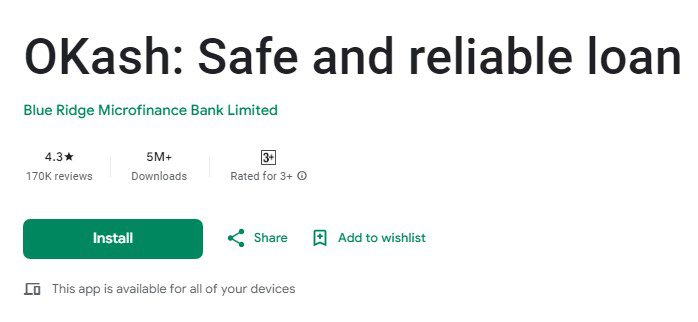 Alternatively, you can head over to their official website and download the app.
How to Borrow Money From Okash
To borrow money from the Okash loan app, follow the steps below:
Step 1: Input your phone number
By now, I believe you have already gotten the app installed on your device. Simply open it to create an account and kick-start the borrowing process.
During your sign-up or account-opening process, you will be required to input your phone number. The system will automatically send an OTP code to your phone number. Make sure the number is correct, and also note that this will be your official number on the platform.
After inputting your phone number, click on the "Sign In/Sign Up" button to proceed.
Step 2: Create your password
On the next page, you will be required to create your 4-digit password. You can also input your invitation code on this page if you have any. Otherwise, click on the "Sign Up" button to proceed.
Step 3: Complete your basic information
Your account will be created now, and you will have access to your dashboard.
Simply click on the "Apply Now" button on your homepage to continue with the process. A new page will automatically open for you to complete your basic information. This includes your full name, gender, date of birth, Bank Verification Number (BVN), Personal email, resident address, marital status, and monthly income.
Step 4: Verify your identity
After inputting your basic information and clicking the submit button, a new page will open where you will complete your identity authentication. Okash will request that you take a facial biometric at this stage.
Step 4: Link your card
Okash will require you to link your debit card information to the app. Make sure you have sufficient funds on the bank card you are linking, as they are going to debit N15 from your account during the card setup.
Also, you should activate your card for online transactions and make sure you input the correct details, which include the card number, expiration date, and CVV, to avoid your card being declined. Furthermore, do not use a card that has already been used by another Okash customer.
In case you don't know, loan apps often request users to link their debit cards for several reasons, primarily related to the loan application process, repayment, and financial verification. They also use the information from linked debit cards to assess the creditworthiness of borrowers.
Linking a debit card can also be a way for lenders to reduce the risk of fraud and default. It allows the loan app to have a direct method of recourse in case a borrower fails to make payments.
Step 5: Provide your bank account
You have to also add your bank account details, which include your bank name and account number. Note that this will be the account where you will receive your loan.
Step 6: Apply for your loan
Congratulations! You can now apply for your loan. Simply click the "Apply Now" button on your Okash Loan app dashboard to access your loan.
The amount of money you can borrow for the first time depends on your credit score. If you have a good credit score, you can access a larger amount, but if you have a poor credit score, your loan amount will be small.
Also, OKash uses data from your phone, including your phone details, financial transaction messages, and your reason for borrowing, to decide whether to give you a loan or not.
Just like we previously mentioned, the lowest amount you can borrow from Okash is N3,000 and the highest is N500,000.
After the application, Okash will review and process your loan within minutes, and the money will be disbursed to your bank account.
Why was my Okash Loan Application Rejected?
There are several reasons why Okash will reject your loan application. Some of the common ones are poor credit scores, poor levels of financial transactions, and the provision of wrong information.
Having a lot of experience in the digital lending industry, I observed that the most significant challenge faced by borrowers (especially those who are not financially buoyant) is loan rejection due to low credit scores or poor levels of financial transactions.
Nevertheless, if you provide accurate information and also have good credit scores and financial transactions, you can successfully borrow money from the Okash Loan app without any stress.
Okash Loan USSD Code
As of now, Okash has no official USSD code. All their services, including account opening, loan application, loan repayment, and more, are conveniently carried out through their loan app. We will update you as soon as there is any.
Okash Loan App for iPhone
As of now, the Okash Loan App is not available for iOS or iPhone users. To borrow money from Okash, you will need an Android phone. We will update you as soon as the app is available for iPhone users.
How to Repay Okash Loan
There are two major ways of repaying your Okash loan: auto-debit and manual repayment from the app.
The auto-debit is a more convincing and easiest way of repaying your loan. Here, the Okash loan app will automatically debit the due loan amount from your bank card on the repayment date. All you have to do is make sure the card has sufficient balance before the due date.
On the other hand, you can simply log in to your Okash loan app, navigate to the "My Loan" page, and click on the "Make a Repayment" button to pay back your loan. This can be the right option for you if you want to make your repayment before the due date.
Note that failure to make your loan repayment on time will automatically incur a rollover of 2% every day, and can seriously affect your credit score, which will result in loan rejection in the future.
Okash Loan App: Roundup
Finally, we have reached the end of this piece of information and I believe you have learnt a lot.
The Okash loan app is here for anyone looking for a great way to access instant loans in Nigeria. However, it's important to borrow with caution. Don't borrow what you can not afford to repay to avoid a bad credit score or bad reputation.
By now, it will be okay to assume that you have understood everything you need to know about the Okash loan app and can successfully borrow money from the platform with no stress.
Now, let's hear from you!
What do you have to say about the Okash loan app? Which loan app is your best in Nigeria?
You can use the comment section below and don't forget to reach out if you have anything to say concerning this information.
Source: TrendingNow.ng