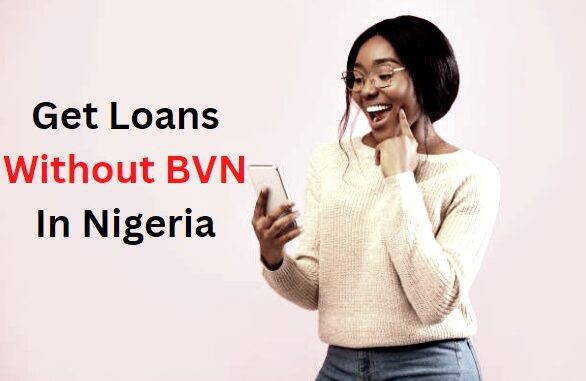 Last updated on March 14th, 2023 at 11:55 am
Are you looking for the best loan app without BVN in Nigeria? If the answer is yes, then you are in the right place. We are going to introduce to you the Seven (7) best loan apps where you can borrow money without BVN in Nigeria. These apps offer various loan options, such as short-term loans, personal loans, business loans, and instant loans.
They also have different requirements and terms for loan applications. We will discuss the features and benefits of each loan app, as well as any potential drawbacks or limitations.
You will also learn other important things in this article. These include everything you need to know about borrowing from loan apps in Nigeria and the reason why some digital lenders request BVN.
I believe after going through this piece of information, you should have a perfect understanding of the different loan app options available in Nigeria and the ability to handsomely choose the one that best meets up with your expectation.
You can as well check on this awesome article concerning the top 8 best loan apps if you are looking for other options to borrow money in Nigeria. Or banks that give instant loans in Nigeria if you are needing urgent cash.
Now let's ride…
What You Should Know About BVN?
A Bank Verification Number (BVN) is an 11-digit unique biometric identification number assigned to each individual with a bank account in Nigeria.
It was implemented by the Central Bank of Nigeria on February 14, 2014, to improve the security of the Nigerian banking sector and help reduce illegal banking transactions in the country.
With this system, financial institutions can easily verify the identity of customers and ensure that they are not opening multiple accounts under different names. This is because customers' personal information and all their bank accounts in Nigeria are linked to BVN.
Without a BVN, you can not successfully operate a bank account or access most financial products and services, like borrowing money. However, some loan apps in Nigeria offer loans without requesting BVN or collateral, and we are going to list them right here for you.
To get a BVN, you have to visit your bank or any financial institution in Nigeria and provide your personal information. Also, your biometric data (fingerprints and a photograph) will be captured. Within 24 hours after Enrolment, your BVN will be ready.
To check your BVN, simply dial *565*0# with the phone number you used during the BVN enrolment, wait for some seconds, and the number will display. Or you can request it from your bank.
Why Do Loan Apps Require Bank Verification Number (BVN)?
There are two major reasons why loan apps require BVN. The first reason is to measure the security and the identity of the customer to ensure that they are not lending money to a fraudster but to a genuine bank customer. The second reason is to verify the borrower's credit score, credit history, income, and debt-to-income ratio, among others, to ensure that the borrower is capable of repaying the loan. There may be other reasons attached to it, but those are the common ones.
Notwithstanding, some digital lenders are giving out loans without BVN in Nigeria. This is because they want to make it easier for individuals to access loans, especially those who may not have a BVN or who may not want to provide their personal information.
Another reason may be that they want to take advantage and reach a larger number of people, potentially increasing their profitability. It could also be that they are using alternative methods of verifying the identity of their borrowers.
Knowing all this, let us move straight to the topic of discussion!
YOU MAY ALSO LIKE:
7 Best Loan App Without BVN In Nigeria
If you are looking for a place to get a loan without BVN in Nigeria, or where to get a loan without collateral, here are the 7 best loan apps you should check out:
1. Carbon (Paylater) Loan App
The carbon loan app, formally known as Paylater is one of the digital lenders in Nigeria that offers instant loans without BVN, collateral, guarantor, or documentation.
The loan app was launched in May 2016 and is trusted by many people. They offer loans up to ₦1,000,000, and the payback duration ranges from 30 days to 12 months.
Aside from loans, Carbon offers a variety of financial services. You can conveniently store your money in a Carbon bank account, you can save and earn returns, and you can make payments online and offline with Carbon cards.
2. OKash Loan App
Okash is another loan app in Nigeria where you can handsomely borrow money without providing a BVN or collateral.
A must-confess aspect of it is that they have made it very simple for users to access loans. All you have to do is to download the app, sign-up, apply and receive your loan within minutes.
They offer loans ranging from N3,000 to N500,000, and the loan duration ranges from 91 days to 365 days. Their interest rate is calculated on daily basis. The annual Percentage Rate (APR) is from 36.5% to 360%.
3. FairMoney Loan App
FairMoney is not just a loan app but a Microfinance Bank duly licensed by the Central Bank of Nigeria. Just like Carbon, they offer a variety of financial services. You can send and receive money, pay bills online, and save and earn returns, among others.
To get a loan from FairMoney, simply download the app on Play Store, sign up, answer a few questions and confirm your identity. After that, you can apply for a loan, and if accepted, you will receive the fund instantly in your preferred bank account!
4. JumiaOne Loan App
With JumiaOne Loan App, you can access Payday loans, Education loans, and Business loans without BVN or collateral.
To borrow from this loan app, simply head over to Play Store and install the app, scroll down to the Financial Services section and click on Loans. Follow up and provide all the requested information, and your loan will be available within a few minutes.
5. Aella Credit Loan App
Another legitimate loan app without BVN in Nigeria is Aella Credit Loan App! It is an online lending platform that allows users to get loans, get insurance, and make payments and investments.
They offer loans ranging from N1,500 to N1,000,000 with a monthly interest rate of 2% to 20%. Their repayment period is usually within a month or 3 months, depending on the type of loan.
To access a loan from Aella Credit, simply install the app, create your account, and fill in all required fields with valid and appropriate information. After that, you will have access to instant loans and other financial services.
6. Branch Loan App
The branch is one of the world's leading financial technology companies that allow users to transfer money, pay bills for free, get instant loans (up to ₦500,000), and enjoy investment yields of up to 20%.
The app was launched in 2015 and started operating in 2017. It is tested and trusted by many people within and outside the country, making it among the loan apps with the highest number of users.
Getting a loan from Branch Loan App is pretty simple. Just like other loan apps mentioned above, simply download the app, create an account, apply for the loan that matches your needs, and you will receive the fund within 24 hours.
7. QuickCheck Loan App
Another wonderful Loan app without BVN in Nigeria QuickCheck. They offer loans ranging from 1,500 to 500,000, and their interest rate is 1% daily.
Without a doubt, QuickCheck has made it simple for users to access loans. With your smartphone, you can enjoy their services at any time as long as you are an adult and has a good credit score. Simply head over to the app store, download the app, create an account, and you are good to go.
7 Best Loan App Without BVN In Nigeria: Summary
Below is the summary of the 7 best loan app without BVN in Nigeria:
Carbon (Paylater) Loan App
OKash Loan App
FairMoney Loan App
JumiaOne Loan App
Aella Credit Loan App
Branch Loan App
QuickCheck Loan App
Final Thoughts
The development of getting a loan from loan apps without a BVN can be a convenient and quick way to access loans for those who don't have a BVN or those who don't want to provide their personal information.
However, it is always advisable to thoroughly research, compare, and also read and understand the terms and conditions of the loan before clicking on the borrow button.
Some of the important things to consider when borrowing money are the interest rates, repayment terms, and any hidden fees. This can help you to stay away from fake loan apps or loan sharks.
So far, this is the list of the 12 best loan apps without BVN in Nigeria. We will keep on updating this page for further changes. Thanks for your time!
Source: Trendingnow.ng