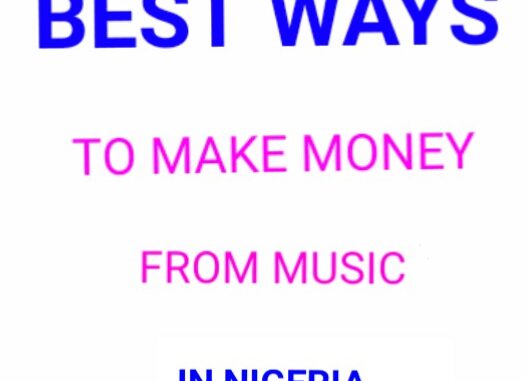 The Nigerian music industry has grown to become the biggest in Africa and no doubt one of the biggest in the world.
Many artists that make it to the top like Wizkid, Davido, Burna Boy, 2baba, Olamide, and the rest are making a huge amount of money on daily basis, but the setting has made it difficult for upcoming artists to make money from their brand.
However, with much research, we discovered some reliable ways to make money from music even as an upcoming artists in Nigeria which I am going to discuss here. If you are also looking for ways to make money from music, and how to be successful in music, then you are in the right place, continue reading!
After wasting a huge amount of money right from production, promotion, paying for shows, and the rest you did not make anything in return, it is very annoying, isn't it? What I normally advise artist is to be very hardworking and consistent because talent is paying in this century!
With over 2 million upcoming artists who are in the street trying to be successful in music, I believe it is not a day job to overshadow them and stand tall. So before I proceed to tell you the best ways to make money from music let me bring to you some tips on how to be successful in the music industry!
How to be successful in the music industry
. Know what your people want: The first thing I will talk about is this very point because we all know that the most important thing in the music industry is the fan base! How do you feel when people are feeling you during a performance? Or when your song is the talk of the town? super amazing, right? By giving them what they want I believe it is the beginning of your success in the music industry.
. Quality production: your best song can be a flop if you failed to give it a quality production! Always make sure you produce a quality song to avoid offending the Listener's ears.
. Promotion: After singing such an amazing song, did you want only your family or street to listen to it, or do you want it to go viral? Your song can only blow when You give it a massive Promotion.
Nowadays all artists need an online presence and there are many platforms to do that. You can get yourself a blogger to blog your songs and thank God for social media, you can easily create your presence there and start promoting your brand.
If you are doing it rightfully and perhaps giving your possible best You will see yourself building a bigger fanbase.
Best ways to make money from music in Nigeria
After following all the steps mentioned I believe it's time to make money from your music. One of the sweetest things is you can make money from music even when you are sleeping! Nowadays, technology has made it possible to make money from music in many ways apart from the selling of cassettes like before. Without wasting much of your time let us discuss them below:
A YouTube channel is very important not only for making money, but also serves as another way of promoting your work. There are various ways musicians make money on YouTube, let me show you the simple steps:
. Open a YouTube channel
. Start uploading your videos.
. Allow YouTube to put ads on your videos
. Open Google Adsense account.
. Promote sponsored content in your videos.
. Collaborate with YouTube influencers or popular artists to boost your streams
Note: If you need a guide on how to perfectly earn on YouTube as an artist, click here
2. Live streaming
Live streaming is another super way artists make awesome money. So many big artists out there are selling their songs on those platforms and you can also do the same. Here are some platforms you can upload your songs for streaming:
3. Live shows and concepts
So far as music is concerned artists make a huge amount of money performing in shows and concepts. All you have to do is be hardworking and consistent and let me say it again, know what your people want! And by doing so you will see yourself winning shows and concepts.
4. Sponsorship
Getting sponsorship is like a dream come true and it can help do away with some of those costs and greatly expand your public visibility in the process.
5. Brand Endorsement deals
Musicians make fantastic money from endorsement deals and partnerships with brands. One thing you should understand about Music endorsement deals is that it is an undertaking so the most important thing is to make sure you get a written agreement and also understand everything involved and how the process works.
6. Record deals
This is the most popular and convenient way artists make money in the music industry. It is a legal agreement between a record label and a recording artist, where the artist makes a record or series of records for the label to sell and promote. There are different types of record deals so all you have to do is to understand the terms and conditions and everything that is involved.
7. Royalties
Royalties are the amount paid to whoever owns the song whenever it is sold. For instance, if a movie wants to use your track as a background song or outro, they have to pay royalties for the music rights.
8. Selling of CDs
As an artist, selling CDs is also another way you can make money and perhaps one of the best ways to make money from your music provided you know the right thing to do and the right time.
Conclusion: There are other ways you can make money from your music but those are the ones I chose to discuss and I believe if you follow the steps and follow everything we discuss here you will never regret being a Musician in Nigeria.
Do well by always checking on this blog as we will be updating you on so many things you need to know as an artist.
Please share this post if you found it interesting ?