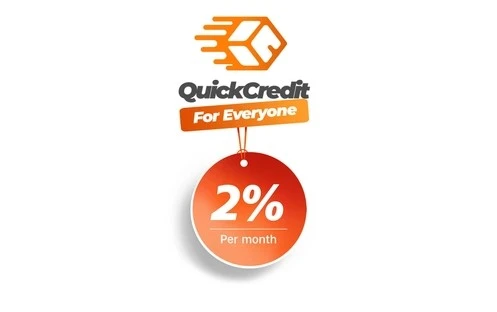 Last updated on January 1st, 2023 at 04:46 pm
How To Qualify For GTB Quick Credit: Do you want to apply for GTB Quick Credit but don't know where to start or are not sure whether you will qualify? This post outlines the guides on how to qualify for GTB Quick Credit and everything you need to know before applying for a loan.
You can also check our article concerning the top 8 best loan apps in Nigeria if you are looking for other safe and reliable ways to borrow money.
What is GTB Quick Credit?
GTB Quick Credit is an instant and convenient loan product offered by Guaranty Trust Bank (GTB). It is an easy-to-use service specially designed for customers who need instant cash to finance their various needs and goals.
With this loan product, you can borrow from N5,000 to N5 million and payback within 12 months. The interest rate is 2.0% per month, and they also charge a Credit Insurance Fee of 1% (One-Off Charge).
Why Should I Choose GTB Quick Credit?
A lot of people prefer or will prefer to borrow money from GTB Quick Credit because of several reasons. These include their low-interest rate and convenient repayment plan. Also, they have no hidden charges, Pre-liquidation is allowed without penalty, you can get up to 3 times your monthly salary (for salary earners), and there is no collateral required.
One good aspect of it is that you can apply for and receive your loan through your mobile phone without having to visit a bank branch for any paperwork.
Quick Credit is also a favorite to many (especially those in need of an instant loan) because the loan is availed immediately after a successful application. You can also check other Banks that give instant loans in Nigeria.
How To Qualify For GTB Quick Credit
To qualify for GTB Quick Credit, here are the following requirements you need to meet:
You must be at least 18 years at the loan application date and should not be older than 59 years at the loan maturity date
You must maintain a minimum monthly lodgement of at least N20,000 or earn a minimum net monthly salary of N10,000
You must not have any history of dud cheques
You must have satisfactory credit reports
You must not have any unpaid obligations
You must have an active GTB account that has been active for at least 3 months
How To Apply For GTB Quick Credit
You can apply for GTB Quick Credit using a USSD code *737*51*51#. The loan can also be accessed via the GTB internet banking platform or through their Mobile Banking App.
If you are eligible, the funds will be disbursed directly to your account shortly after the application, just as we previously stated.
YOU MAY ALSO LIKE:
How To Pay Back Quick Credit Loan In Nigeria
Paying back your GTB Quick Credit loan in Nigeria is very straightforward. It can be done via a USSD code or using the bank app. You can click here and learn more about how to pay back your GTB Quick Credit loan.
Conclusion
Getting a loan from GTB Quick Credit can be useful for financing various needs and goals. However, it is important to ensure you meet certain criteria such as good credit scores, satisfactory credit reports, having no history of dud cheques, and other requirements mentioned above, to improve the likelihood of qualifying for the loan.
Additionally, it is always recommended to carefully consider the terms and conditions and also thoroughly research and understand the options and potential risks and benefits of a loan before clicking the borrow button.
You should also consider the ability to repay the loan and borrow responsibly, as failure to repay a loan can have serious financial consequences, such as damage to credit score and difficulty in obtaining credit in the future.
Source: Trendingnow.ng