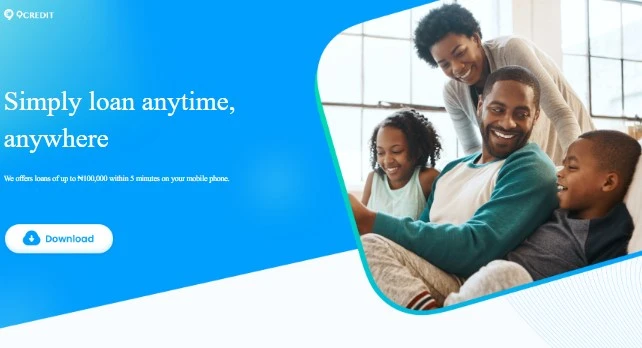 Welcome to Trending Now! Are you interested in borrowing money from 9Credit or want to know more about the loan app? If the answer is yes, then you are in the right place! This article contains everything you need to know about the 9Credit loan app, including how you can successfully access a loan from the platform with no stress.
You can also check the following articles if you need other options to borrow money:
9Credit Loan: All You Need To Know
9Credit is one of the most popular digital lending platforms in Nigeria. This loan app allows users to conveniently access loans from NGN 3,000 to NGN 100,000 anywhere, anytime, within 5 minutes.
They have enhanced their services to the extent that anyone with just a smartphone and an internet connection can borrow money from the platform without undergoing the obstacles imposed by traditional institutions. No paperwork, documentation, or collateral.
One great feature of 9Credit Loan is that you can unlock higher loan amounts and lower interest rates when you borrow money and pay it back on time. This means that by keeping a good credit score, you can access bigger loans on the platform to settle your financial needs at any time.
Is 9Credit Legit?
The first thing people care to know when borrowing money from any digital lender is whether the platform is trustworthy or not. This is because nobody wants to borrow money from a company that they are not familiar with, especially if they have heard negative reviews or stories about the company's practices.
I must let you know that the financial industry is a critical aspect of our economy. We all rely on financial institutions to access credit and other financial services. Notwithstanding, not all financial companies are created equal, and some may engage in fraudulent activities or operate without proper licenses and regulations. Because of these reasons, knowing whether a lender is legitimate is a sage decision to make before doing any business with them.
In the case of 9Credit, The platform is duly registered under Nigerian law and aims to meet the financial needs of Nigerians who are in need. The loan app is also downloaded by over 1 million people and many have testified for their excellent services, indicating that they are a reliable lender.
Below are some of the ratings and reviews of 9Credit Loan from the Google Play Store: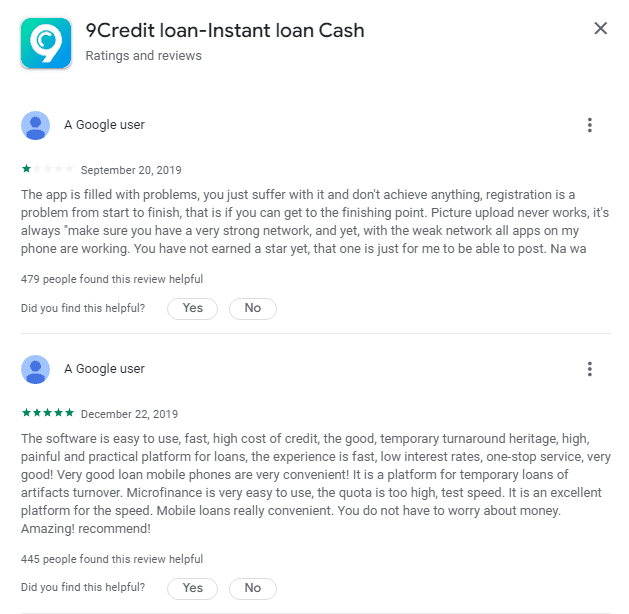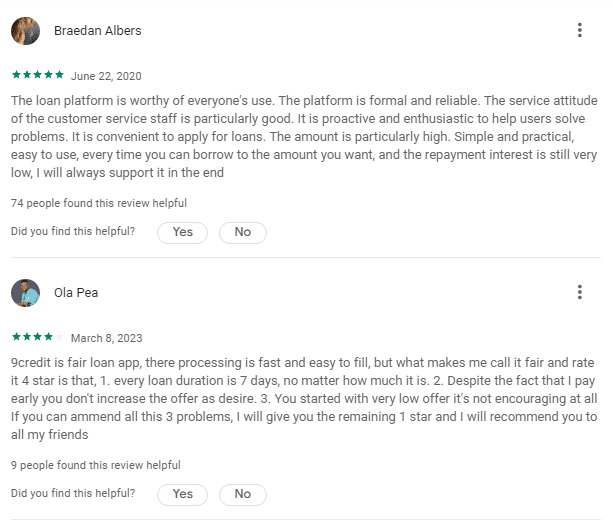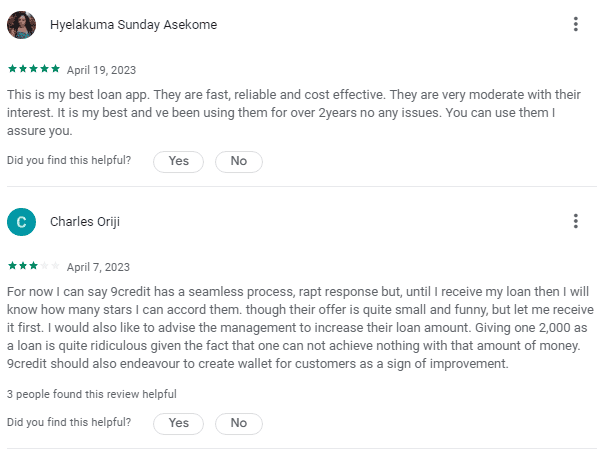 Nevertheless, we recommend thoroughly researching the loan app to ensure its legitimacy before borrowing.
How to Apply for 9Credit Loan
To apply for a loan from 9Credit, follow the steps below:
Step 1: Download the 9Credit app
To initiate the borrowing process with 9Credit, you have to first download the app. Kindly note that the app is currently not available for iOS users. It's only available for Android users.
Step 2: Create an account
After downloading the app, create an account by filling out the necessary information. It is essential to ensure you provide accurate information so that your loan application will not be rejected.
Step 3: Apply for the loan that meets your needs
Congratulations! You can now apply for the loan of your choice. Like other loan apps, 9Credit utilizes the information from your mobile device, financial transaction records, loan purpose, credit scores, and additional information to determine a suitable loan amount you can have for the first time. All you have to do is choose the loan offer available to you and hit the apply bottom.
Step 4: Wait for approve
You have to wait for the 9Credit loan approval decision. It is a common experience that when applying for a loan, you have to wait a certain period for review. This waiting period can vary in length depending on the type of loan, the lender, and the specific circumstances of the applicant. In the case of 9Credit, the loan review usually takes 5 minutes.
Step 5: Receive the loan in your account
If your loan is approved, it will be credited directly to your bank account.
9Credit Loan App
In 9Credit, everything is 100% based on their loan app. The loan app is designed to provide a seamless user experience to enable borrowers to easily apply for loans and receive funds directly into their bank accounts.
The app's user-friendly interface and intuitive navigation make it easy to apply for loans, check loan status, and make payments.
To download the loan app, simply head over to the Google Play Store or their official website, www.9moni.com. Just as we previously stated, the app is currently not available for iOS users. It's only available for Android users.
9Credit Loan Tenure
The loan tenure offered by 9Credit ranges from 91 to 120 days.
9Credit Interest Rate
9Credit charges an interest rate of 0.07% per day, equivalent to an annual percentage rate (APR) of 25.55%. According to the platform, all interest rates and fees are open and transparent. Customers can clarify their fees during the application process, and there are no additional or hidden charges.
9Credit Loan Requirement
Borrowing money from 9Credit doesn't take much; all you need is a smartphone, a bank account, a Bank Verification Number (BVN), and an active phone number. Also, you must be at least 18 years of age or older, which is the minimum legal age requirement for most lenders in Nigeria.
9Credit Loan Contact
You can contact 9Credit via their customer care hotline, 09019310402, or via their email, [email protected].
Roundup
Obtaining a loan from 9Credit can provide a prompt and practical means of acquiring cash on hand when faced with a financial need. Nonetheless, before securing a loan, it is imperative that you carefully review and comprehend the application's privacy policy and the terms and conditions of the loan, including but not limited to the interest rate, fees, and repayment duration.
Additionally, it is crucial to evaluate the purpose of the loan and determine whether it is a judicious financial decision. Are you borrowing the funds for emergency expenses or to invest in something that will generate income? It is imperative to assess whether the objective is worthwhile. Incurring debt for non-essential expenses may not be the most prudent choice, as it may cause undue financial strain.
Also, ensure that you have a plan in place to repay the loan within the allotted repayment period. Failing to make the required payments can result in debt accumulation and negatively impact your credit score.
By now, it's safe to assume that you have gone through this article and understand everything you need to know about 9Credit Loan.
Now let's hear from you!
What do you have to say about 9Credit Loan?
Source: TrendingNow.ng