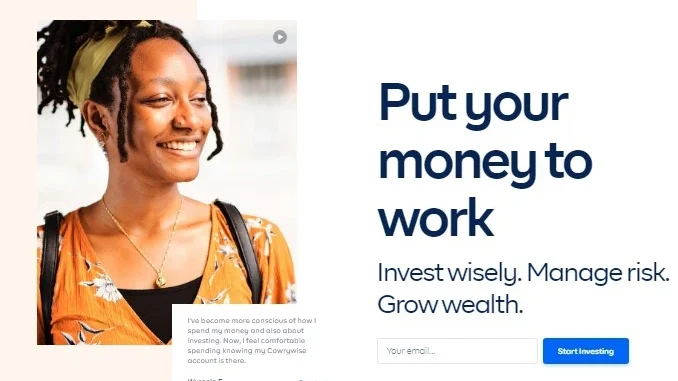 Last updated on April 5th, 2023 at 07:09 pm
Do you want to invest your money online and earn daily returns? Are you looking for online investment platforms that can earn you passive income daily? If yes then we get you covered! This article explores the eight legitimate online investment platforms that pay daily.
Outlines:
Introduction to Online Investment Platforms
The development of online investment platforms is no more a new thing in today's generation. Many people are massively growing their worth by investing in those platforms. This can be done through a wide range of financial products, including stocks, bonds, exchange-traded funds (ETFs), mutual funds, and more, through an online gateway.
There are a lot of online investment platforms available, with different ways of functioning and investment options. Some of these investment platforms enable users to earn daily while some are monthly or even annually.
However, this article is only focused on online investment platforms that pay daily, and how you can handsomely maximize your earnings with such platforms. You can click here to learn more about other investment platforms aside from this category.
How Online Investment Platforms That Pay Daily Works
In general, before putting your fund in any platform or asset, it's always recommended to understand how the system works so that you will be aware of certain things like risk assessment, investment strategy, and due diligence, and also avoid scamming.
When it comes to online investment platforms, the system works by pooling together the investments of multiple investors and using them to fund various projects or investments. These ventures could include peer-to-peer lending, cryptocurrency trading, forex trading, and real estate endeavors.
After that, the profits produced by these investments are distributed among the investors daily, usually as a proportion of their initial investment.
The mechanism here is that those investment platforms are acting as intermediaries between you (the investor) and the investments. In addition to that, they designed a user-friendly interface allowing investors to sign up, make investments, and track their returns. They also investigate the investment options they provide to ensure they are reliable and capable of delivering the promised returns.
Notwithstanding, some of these online investment platforms have their downsides like lack of regulation, transparency, and good customer support, and they also charge high fees.
So, how are you going to choose the right online investment platform for you?
This tends to be the most critical question to consider for anyone looking forward to growing worth through online investment platforms. This is because nobody wants to invest where they will encounter losses but where they will enjoy the potential of their investment.
My First foray into Online Investing: What I Wish I Had Known
I must confess that my first experience investing online was not encouraging. I was so discouraged, and fetch it was impossible to make money through online investment.
The major part of my problem was a failure to choose the right investment platform. Yes, I was a newbie and know nothing about online investment.
I unknowingly invested in a platform that was not offering full services to my country. You can only invest but there is no easy option to withdraw or transact in local currency in my country.
I left my fund there and forgot about it for about 2 years. In 2020, I saw the company's advert on social media and decided to log in to the account and see how my investment was doing and guess what? It was massively converting! What I saw impressed me and I started looking for ways to withdraw my money.
To my disappointment, I learned that there was still no easy way for me to withdraw my money. I even went further and contacted their customer support, but all they could tell me was that they were working on a solution.
This got me imprisoned and frustrated. I had invested a significant amount of money, and watching it grow was exhilarating, but being unable to access it wasn't pleasant.
Do you want to know how it ends?
After some months, the company announced that it had successfully integrated a new payment system that allowed easy withdrawals of funds in my country.
I immediately logged into my account and requested a withdrawal. Within a few days, the money was in my bank account. Indeed I fetch relieved and grateful, but couldn't help but feel frustrated with the whole experience. It shouldn't have taken so long to provide basic services like withdrawal.
From my experience, I concluded that choosing the right platform is the beginning of success in online investment.
It might not be withdrawal issues (like in my case) but other related issues like lack of regulation and transparency, poor customer support, high charges, etc, just as we previously stated.
The good news is that we did research and also consider different resources in other to serve you with some of the best online investment platforms that can help you grow your wealth with daily returns.
Let's dive!
YOU MAY ALSO LIKE:
8 Legit Online Investment Platforms That Pay Daily
1. Binance

Binance is the largest cryptocurrency exchange in the world right now. The platform was launched in 2017 by Changpeng Zhao, a Chinese-born Canadian businessman, investor, and software engineer, and within 180 days, it grew to become the world leading cryptocurrency exchange.
If you are the type that loves to invest in cryptocurrency, Binance may be the best option for you. They provide several features and a user-friendly interface for users to invest and perfectly manage their funds.
2. Risevest

RiseVest is a cutting-edge investment platform. It was designed to facilitate investment in a diverse range of global assets, including stocks, real estate, and fixed income, with utmost convenience. The platform was established in 2019 by Eke Urum, having its headquarters situated at No. 358 Herbert Macaulay way, Yaba, Lagos, Nigeria.
RiseVest functions as a personal investment manager and advisor. They offer unparalleled expertise in identifying carefully selected dollar-denominated assets, with a primary focus on delivering safe and consistent dollar returns over an extended period.
They also empower individuals to grow and secure their wealth through smart, data-driven investment strategies with a commitment to providing top-notch investment solutions.
3. Pillow Fund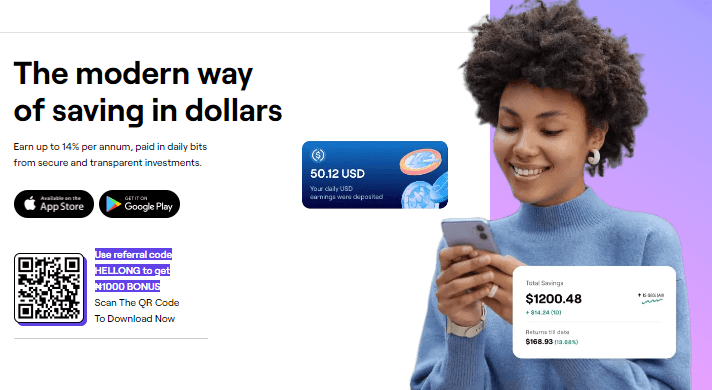 Another one on the list of online investment platforms that pay daily is Pillow Fund!
Pillow Fund is a financial technology application designed to provide users with a secure and accessible means of building financial resilience. The company is located in Singapore but is currently operating in over 60 countries, including Nigeria.
Pillow Fund offers a unique financial cushion or emergency savings app that visually aids users in saving. You can save in both dollars and Naira while earning passive income daily.
The overarching objective of Pillow Fund is to position itself as a preeminent platform for accessing global assets in emerging and frontier markets.
The company leverages a fusion of traditional finance and cutting-edge technological infrastructure to develop and deliver innovative financial services to these markets. In this regard, Pillow Fund collaborates closely with globally recognized financial institutions, and actively cultivates local communities that prioritize financial literacy, to achieve sustainable and inclusive growth.
4. Chipper Cash

Chipper Cash is a financial technology company that provides users with a convenient platform to perform various financial transactions such as sending and receiving cash, paying bills, and purchasing airtime. In addition, the company has enabled users to invest and earn passive income daily.
With Chapper Cash, you can invest in stocks and crypto coins like Bitcoin, Ethereum, USDC, Avax, Matic, Solana, and Doge, for less than $1.
5. Cowrywise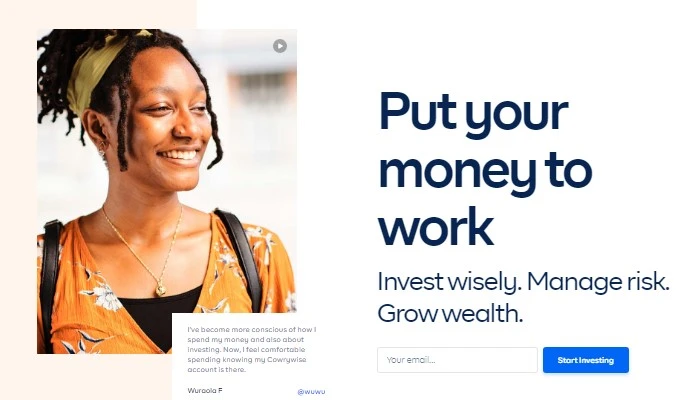 Cowrywise is a financial technology (fintech) company established by Ahmed Razaq (CEO) and Edward Popoola (CTO) to digitize the investment management sector in Africa. The company seeks to make savings and investment options more accessible to the expanding African middle class and millennials who have been historically underserved.
Through the Cowrywise platform, users can conveniently save and invest their funds without physical visits to banks or financial institutions, thereby reducing the usual inconvenience associated with such processes.
If you have a dream of transforming your finances with daily returns, Cowrywise may be an awesome platform for you.
6. Trove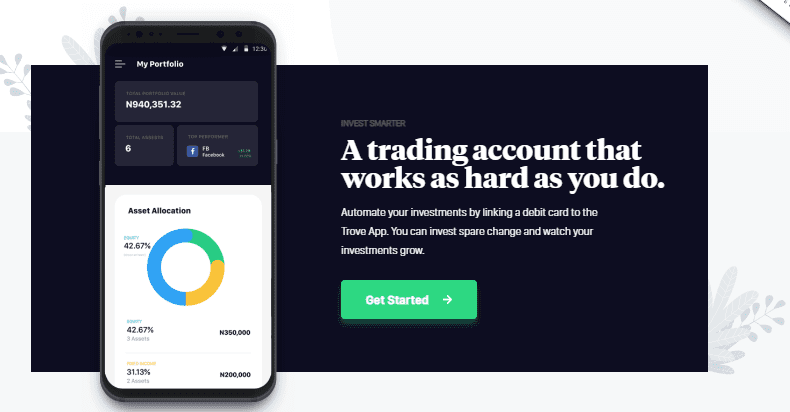 Trove offers access to an array of financial assets listed on major domestic and international stock exchanges, enabling its users to invest in fractional shares of companies. This approach enables investors to acquire a proportionate interest in a company's ownership, without being required to purchase a whole share.
Trove operates as a technology platform and does not hold any registrations as a broker-dealer or an investment adviser. Instead, the platform adopts a collaborative approach with trusted and credible partners to ensure the security of its users' investments.
7.PiggyVest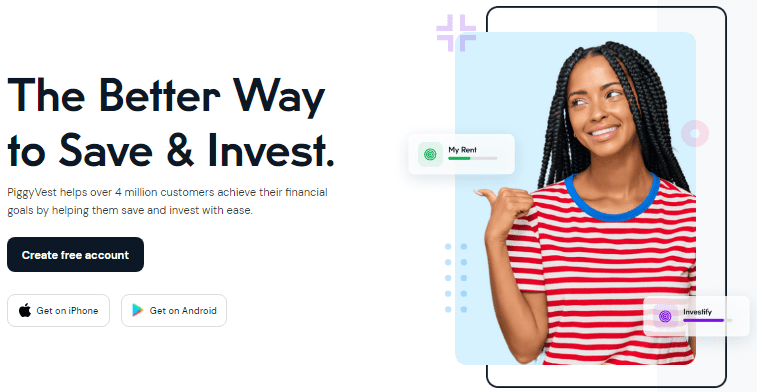 PiggyVest is another online investment platform that pays daily!
The company was launched on the 7th of January 2016 as Piggybank and was only serving as a savings platform. However, in April 2019, it underwent a rebranding process and emerged as PiggyVest, expanding its range of services to encompass savings and direct investment opportunities for its users.
Presently, PiggyVest boasts of a user base of over 4 million individuals, with many testifying to the excellence of their services.
8. Payday Investor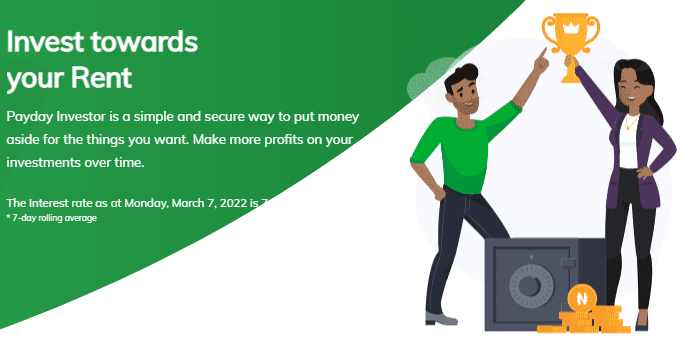 Payday Investor is an esteemed online investment platform that allows users to invest and earn daily. The platform provides a gateway for investors to enhance their financial returns by investing in mutual funds via ARM, while simultaneously saving money.
Through Payday Investor, investors are granted the opportunity to automate their savings on a weekly or monthly basis, and they can also monitor their interests daily.
You can invest as low as $2 on this platform and start maximizing your profits. They offer a maximum interest rate of 15% to their users.
How to Choose the Right Online Investment Platform
Just like I previously stated, choosing the right platform is the beginning of success in online investment. It can impact a lot in your investment and financial future. Without wasting time, here are the important things to take seriously when choosing an online investment platform:
Check and compare the fees of different platforms to choose the one that is best for you
Consider checking the investment options
Consider choosing an investment platform that has a user-friendly interface
Go for a platform that has strong security measures to protect your personal and financial information.
Choose a platform that offers good customer services
Consider researching the reputation of the platform to know whether it has good reviews or not.
Tips for Making Money with Online Investment Platforms That Pay Daily
Below are the tips to consider if you want to make money with online investment platforms that pay daily:
Do your research
Consult a financial advisor
Invest only what you can afford to lose
Diversify your investments
Understand the risks
Monitor your investments regularly
Be patient.
Conclusion
The final and most important thing I will let you know is, online investment platforms that pay daily can be a convenient and potentially profitable option for those seeking to invest their money. However, you should thoroughly research and evaluate these platforms to ensure they are legitimate and trustworthy, before placing your investment.
You should also be aware of the risks associated with online investment platforms in other to smartly place your investment.
DISCLAIMER: This article is for informational purposes only and does not constitute financial advice. The content of this article is based on research and personal experience, and may not be suitable for everyone, and it is subject to change at any time. In case you have concerns beyond this article, please do good by consulting a financial advisor before making any investment decisions. We are NOT responsible for any financial losses or damages that may result from the use of this information.
Source: Trendingnow.ng