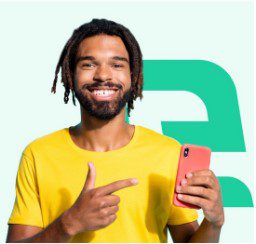 Welcome to Trending Now! In this article, we are going to discuss everything you need to know about the EaseMoni loan app, including its features and how you can successfully borrow money on the platform.
If this is what you are looking for, feel relaxed and continue reading. We advise you to kindly go through this article to the end without skipping any parts to avoid missing out on any important information.
Now, let's dive!
EaseMoni Loan
EaseMoni stands out as one of the latest loan applications in the market, delivering unparalleled services. The platform is owned by BlueRidge Microfinance Limited. It was launched in 2021 and has experienced rapid expansion, catering to millions of customers.
I chose to write about this loan app because I believe it will be very helpful to my users. When talking about the best loan app in Nigeria, it would be unfair to exclude this platform. Their services are very okay and, of course, convenient for people looking for loan applications to borrow money in Nigeria.
With this loan app, you can have access to easy, instant-approval loans at any time and anywhere. No provision of collateral, a guarantor, or any form of documentation.
One fantastic part about the EaseMoni loan app is that it provides users with a hassle-free experience. They don't bother users with intricate or cumbersome procedures, and navigating through their loan app is an incredibly uncomplicated and straightforward process, ensuring that users can access the financial assistance they need without any unnecessary complexities.
EaseMoni Loan Amount And Duration
The lowest amount of money you can access from EaseMoni is N3,000, and the highest amount is N1,000,000. Their loan duration ranges from 91 days to 365 days.
How does EaseMoni decide which loan amount you are eligible to borrow?
When you apply for a loan, they gather information from your phone, including your phone details, messages about your financial transactions, and the reason for the loan. They then mix this with how well you've paid back loans before to create a personalized credit score. This score helps them figure out the best loan options for you.
EaseMoni Interest Rate
The interest rate for EaseMoni loans ranges from 5% to 10% monthly, and their Annual Percentage Rate (APR) ranges from 60% to 120%.
EaseMoni Loan Requirement
Below are the requirements to successfully borrow money from EaseMoni:
You must be a Nigerian and reside in the country.
You must have a valid phone number.
You must have an active bank account with any of the mainstream commercial banks in Nigeria.
You must have a Bank Verification Number (BVN).
You must be at least 20 years old and not older than 55.
You must have a monthly source of income.
You must have a smartphone.
You can also check out the articles below if you are looking for other options to borrow money in Nigeria:
How to Borrow Money From EaseMoni
Below are the steps to successfully borrow money from EaseMoni:
Step 1: Install the loan app.
The journey to accessing funds through EaseMoni starts with downloading the loan app. Simply head over to the Google Play Store, search for "EaseMoni", and install the app.
Step 2: Input your mobile phone number.
After successfully installing the app, open it, and you'll be prompted to provide your mobile phone number. Ensure that the number you enter is correct, as this will be your primary number on the app and the number you will be using throughout the loan application process.
Step 3: Input your OTP
An OPT will be sent to you via SMS or phone call (depending on your choice). Input the code to proceed.
Step 4: Create your 4-digit password and submit.
To enhance the security of your EaseMoni account, you'll need to create a 4-digit password. Make sure this password is unique and not easily guessable. After setting your password, submit it to proceed to the next step.
Step 5: Carefully read the privacy agreement and agree.
You'll be presented with a privacy agreement. It's crucial to carefully read through the agreement to understand how your data will be handled and protected. If you agree with the terms and conditions, indicate your consent to continue.
Step 6: Apply Now
After agreeing to the privacy agreement, you'll be directed to a new page. On this page, you'll find the "Apply Now" button. Kindly click the button to proceed.
Step 7: Feel your information
Make sure you provide accurate information. EaseMoni will examine your credit report using the details you provide. They assure you that your information will remain confidential and undisclosed to anyone.
The information you will be required to provide is your name (first name, middle name, and last name), your gender, and your BVN. After that, kindly accept the credit report policy and then click "Next" to proceed.
Step 8: Complete your profile.
By now, your account will be ready. The next step required is for you to click on the account icon at the bottom right to complete your profile by filling in your email, relationship contact number, and income. This will enable the system to increase the loan limit or loan approval rate.
Step 9: Get your Loan.
You have to click the "Get Loan" button and enter the amount you want to borrow. You should remember that the EaseMoni loan amount ranges from N3,000 to N1,000,000. However, the amount you can access for the first time depends on your credit score, financial transaction history, and other information you provide.
You can select the loan amount available for you and customize a repayment schedule.
Step 10: Submit your bank account details.
Lastly, you need to provide your bank account information. This account will receive your loan. Make sure you double-check, and then click the "Apply Loan" button. Once EaseMoni approves your loan, they will send it to your bank account within minutes.
EaseMoni Loan App
The EaseMoni Loan App aims to offer individuals fast loan access for their short-term financial requirements. The app is simple to operate, convenient, and user-friendly.
To download the app, Simply head over to the Google Play Store, search for "EaseMoni", and install the app. Alternatively, You can visit their official website and click on the "Download APK" button to install the app.
EaseMoni loan USSD code
Currently, EaseMoni does not offer a USSD code that users can use to access loans. You can conveniently perform all their services, which include opening accounts, applying for loans, and repaying loans, through their loan app.
Source: TrendingNow.ng.