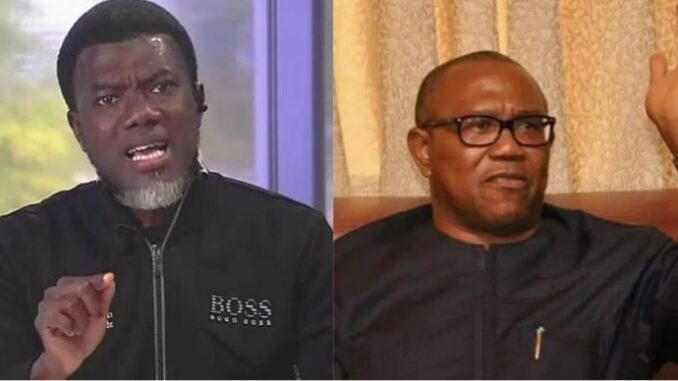 Welcome to another chapter as Reno Omokri continues blowing hot at Peter Obi.
The Nigerian lawyer and human rights activist Reno Omokri in his recent post on Instagram raised an accusation against Peter Obi who is currently running for Nigerian President in the forthcoming election.
If you have been following up, Reno Omokri has already raised a lot of petitions against Peter Obi and his campaign. However, Reno in his recent post took another dimension as he publicly announced that his life and the entire family are at risk and if anything happens, the world should hold peter Obi responsible.
Again, I reiterate that if anything happens to me, my wife, my children, or any siblings, the world should hold Peter Obi responsible. To those two men who followed us, you were caught on CCTV and image is with the metropolitan police. Continue being Obidient!

I had one purpose. To expose to Nigerians what awaits them in a Nigeria ruled by Peter Obi, and I have succeeded. Today, I will sleep as a VERY fulfilled man. I anticipated them. Nigerians have now seen what awaits them if they go that route. That was single my purpose!

#TableShaker

Reno Omokri
He posted this with a photo of Peter Obi. This sparked a lot of reactions and many people were not happy with the post as they took to the comment section and expressed their dissatisfaction.
This will not stop us from voting Obi to power
Only Goodness and Mercies would await Nigerians if Obi wins❤️❤️ No negativities for what God cannot do doesn't exist ❣️
Oga shut up
Peter Obi don't even have your time you are creating problem for yourself
Oga please switch off your phone
Just rest. You are becoming a nuisance at this point
Reno the highly placed Pastor and motivational speaker has eventually lost his relevance. He's exposed himself to be nothing but a blackmailer. Shame on you. Nobody followed you. Your mind games and emotional blackmail has finally been exposed
You instigated violence and you saw violence. The Yoruba adage say "If chase a goat to the wall, the goal will turn it head and face you and fight back". You did not expose anything, you've only showed the world that you are a slave. If Peter Obi is Atiku running mate, you would have been so much in support of him. Stop chasing clout Reno and fix your slavery mentality
Let us know what you have to say about this by commenting below!