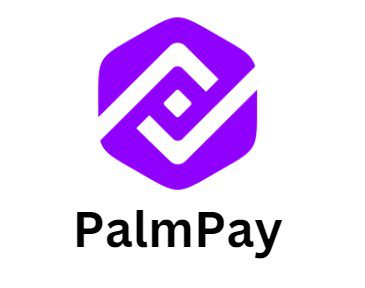 PalmPay Login With Phone Number: Do you want to log in to your PalmPay account using your phone number but get lost or confused about how to go about it? Don't be bothered, as we will guide you on how you can do that in this article.
Additionally, we will discuss other methods to log in to your PalmPay account besides your phone number and other important things you need to know about PalmPay. So, feel relaxed and continue reading if this is what you are looking for.
Palmpay Login With Phone Number: Introduction
PalmPay has become an easy-to-use platform for a lot of Nigerians because of the amazing services it offers. Many people use it to complete various financial transactions, such as sending and receiving money, buying airtime and data, paying electricity bills, TV subscriptions, funding betting accounts, etc.
This platform also allows users to make a decent amount of money while making transactions. They usually reward users with points called PalmPoints for almost every transaction made on the app. These points can be used to discount up to 50% of their transactions.
You can visit our article concerning how to convert PalmPay Points to money to learn more about PalmPoints.
PalmPay also offers its users 12 to 50% cashback for almost every transaction, making it one of the best e-wallet and mobile payment platforms in Nigeria.
Do you know?
You can make a good amount of money on PalmPay by simply participating in their referer program. Once you invite a friend to join PalmPay using your invitation code, you will be rewarded with N500, and the person you invite will also get a welcome bonus with your code.
However, you will only get your reward when the user you invited completes his or her first transaction. This includes account funding, sending money, airtime top-up, and bill payments.
Use this PalmPay invitation code (2AS923) to sign up and get your welcome bonus!
Furthermore, PalmPay allows its users to borrow money on their platform. You can access loans up to N500,000, which can be paid back within the duration of 1 month to 1 year. Their loans are fast and easy, and there is no collateral, guarantor, or other documentation.
You can click here to borrow money from PalmPay!
Without a doubt, there are a lot of benefits you can enjoy when you open an account with PalmPay. If you already have an account with the platform, we are going to show you how you can log in and enjoy all these benefits.
So, whether you are looking for or want to know more about PalmPay login, PalmPay login with phone number, PalmPay login with email, PalmPay login with PIN, PalmPay login on PC, or PalmPay login on Chrome, we have got you covered in this article. But before we guide you on how to do that, let us quickly show you how to successfully sign up on the platform.
You May Also Like: How To Borrow Money From Opay (Okash Loan)
How to Open a PalmPay Account
Below is an easy guide on how to open a PalmPay account:
Step 1: Download the PalmPay app
To open an account with PalmPay, you first need to install the app on your device. This app is available for both Android and iPhone users. To download, simply head over to your Google Play or App Store and search for "PalmPay," and the app will be displayed for you to install.
Step 2: Input your mobile number
After installing the app and launching it, you will be required to input your phone number to sign up. Make sure the phone number is correct and active, as you are going to receive an OTP code to insert and proceed. Note that your phone number is also your PalmPay account number.
Step 3: Complete your information
A new page will open for you to fill in your basic information. This includes your full name, gender, date of birth, and an invitation code, if any.
Use this PalmPay invitation code (2AS923) to sign up and get your welcome bonus!
After filling in the required information, click "Next" to proceed.
Step 4: Set your pin
You will need to create and confirm your 4-digit PIN. This is the PIN you will be using to log in to your account and authorize transactions. PalmPay requests that you not repeat a number or use a number continuously (e.g., 0000, 1234).
After creating and confirming your PIN, your account will be fully ready for you.
You May Also Like: Opay Sign Up: How to Open an Opay Account
Palmpay Login With Phone Number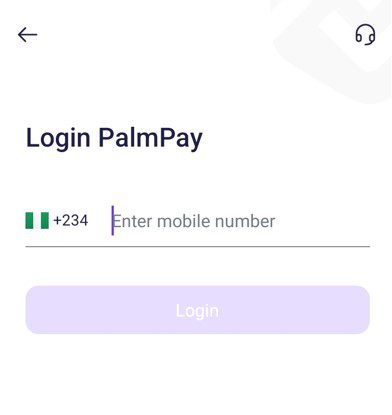 Signing in to your PalmPay account using your phone number is straightforward. The recent PalmPay app update requires a phone number as the major method for logging in. Follow the steps below for a PalmPay login with your phone number:
Open your PalmPay app.
On your homepage, click the "Sign Up/Login" button. It is located at the top left corner of the homepage.
On the next page, you will see a field to enter your phone number. Carefully type in the phone number associated with your PalmPay account. Double-check to ensure it's accurate, and click the "Login" button.
Verify your PIN by entering your PalmPay account's 4-digit PIN.
Access your account. You should now be logged in and able to access your PalmPay account, where you can manage your finances, make payments, and perform various transactions.
How to Login to PalmPay on their Website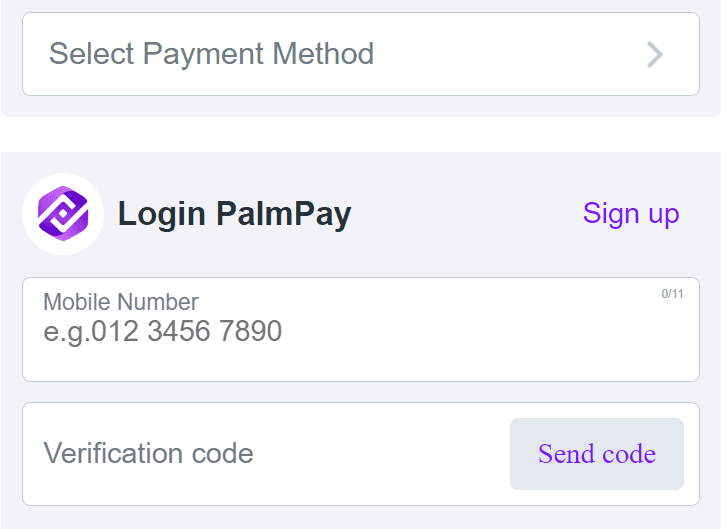 For several reasons, one may find it difficult to install and use the PalmPay app. This is very common for those who are using low-capacity devices, poor storage devices, or devices that do not support the PalmPay app, such as PCs.
Because of these reasons, PalmPay has made it possible for its users to log in to their accounts via its official website. To do this,
Visit the PalmPay website
Locate the "Login" button
Enter your account phone number and press the "Send Code" button for your verification code.
Enter the verification code that will be sent to your phone, and click the "Login" button.
Finally, enter your PIN to access your account.
Other Methods to Login to PalmPay
So far, the primary ways of logging in to your PalmPay accounts are the ones we discussed above. PalmPay does not currently provide an option for users to log in using other methods, like email. However, with your phone number and PIN, you can successfully access your PalmPay account, whether on their app or their official website.
It is convinced that the "PalmPay login with phone number" method is very convenient. With a few touches, you can access your account, so you do not necessarily need other methods of login.
PalmPay USSD Code
The PamlPay USSD code is *652#. You can use this code to check your account balance, transfer money, buy airtime, buy data bundles, and perform other financial transactions.
Note that this code can only work when you dial it using the phone number that is linked to your PalmPay account.
Palmpay Customer Care
You can contact PalmPay customer care by following the steps below:
Login to your PalmPay app
Click the "Me" icon located at the button right on the homepage.
Scroll down and select "Customer Services."
A new page will open, displaying frequently asked questions. Simply click the "Customer Care" option at the bottom of the page.
Start your chat with PalmPay customer care by clicking the "Chat Now" button.
Alternatively, you can contact PalmPay customer care by calling their official phone number, 018886888, or sending an email to [email protected].
PalmPay Login With Phone Number: Conclusion
Opening an account with PalmPay is no doubt an awesome way to carry out your financial transactions. This platform offers amazing services. Their platform is convenient and user-friendly, allowing users to navigate and carry out their daily transactions with no stress.
So far, this is all we have to tell you about the PalmPay login with a phone number. I believe by now you have gone through this article and understand everything you need to know about PalmPay login and more.
Now, let's hear from you!
What do you have to say about PalmPay? Do you enjoy using PalmPay?
Let us know what you have to say about PalmPay by using the comment section below!
Source: TrendingNow.ng