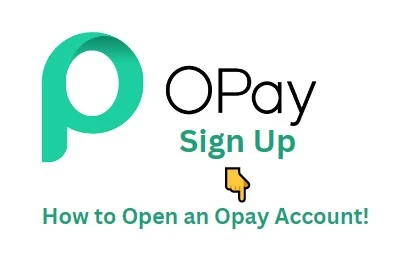 Welcome to Trending Now! In this article, we are going to discuss everything you need to know about Opay sign-up and also provide you with a step-by-step guide on how to open an Opay account and start using its services to manage your finances. So if this is what you are looking for, continue reading; you are in the right place.
---
Contents:
---
About Opay
Just like we explained in our previous post, OPay Digital Services Limited is a comprehensive mobile-based financial technology company that provides a wide range of financial services to users, including payments, transfers, loans, savings, and other essential services.
The platform was established in 2018 by Opera Norway AS Group and is currently operating in various countries, including Nigeria, Mexico, Egypt, and Pakistan.
In Nigeria, Opay has rapidly expanded its services and has become one of the leading financial institutions in the country. Many people depend on OPay's services to carry out tasks such as sending and receiving money, paying bills, and more.
The company recently appreciated their customers as they crossed over 30 million registered app users, 500,000 agents, and 100,000 merchants who use OPay daily to make transactions and ultimately spread OPay's mission of shared prosperity to all.
Opay gained significant popularity primarily because of its intuitive user interface, uncomplicated functionality, minimal transaction charges, and safe and suitable method of conducting financial transactions.
According to the platform, their main goal is to make opportunities accessible to everyone by delivering promising financial services in Africa and some other parts of the world.
Do you also want to borrow money from Opay? Check out this comprehensive guide on how to borrow money from Opay (Okash Loan).
Opay Sign-Up/Account Opening Benefits
There are several benefits associated with opening an Opay account. Owing to these benefits, as well as other exceptional financial services, Opay has established itself as a leading mobile money (MMO) wallet in Nigeria.
Here are some of the benefits you will enjoy when you open an Opay account:
Send money at a cheaper rate than banks.
Earn 14% of your deposits.
Fund your betting wallets for free.
Pay your bills at a discount.
Earn up to a 30% discount when you buy airtime.
A good part of it is that it only takes a few minutes to complete the Opay sign-up process, and users can do it from the comfort of their homes without the need to visit any physical location. 100% of Opay's services are completed via their app.
Opay Sign-Up/Account Opening Requirements
Opening an Opay account is very straightforward and doesn't require much. All you need is a mobile phone, a phone number, and an email address, and you are good to go. Notwithstanding, you will be required to provide a Bank Verification Number (BVN) and a valid means of identification if you want to upgrade your account.
You May Also Like:
How to Open an Opay Account
Below is a step-by-step guide on how to open an Opay account:
Step 1: Download the Opay app
First, you need to download the Opay app. The app is available on both the Play Store and the Apple Store.
Step 2: Give access to the device's location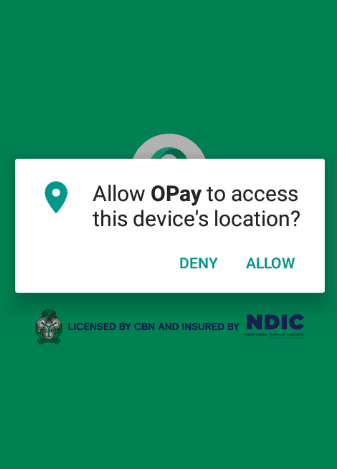 After opening the app to kick-start the sign-up process, Opay will request access to your device's location. Click on "Allow" to proceed.
Step 3: Create an account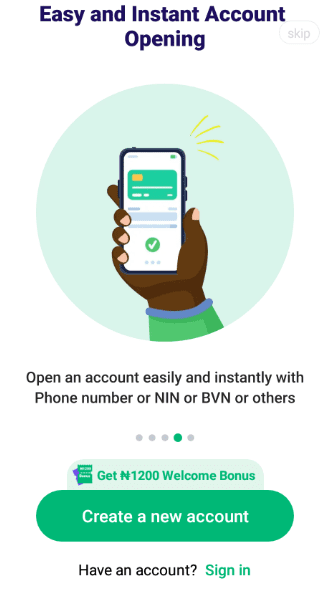 At this stage, you will be asked to create an Opay account. Click on the "Create a new account" button to continue.
4. Input phone number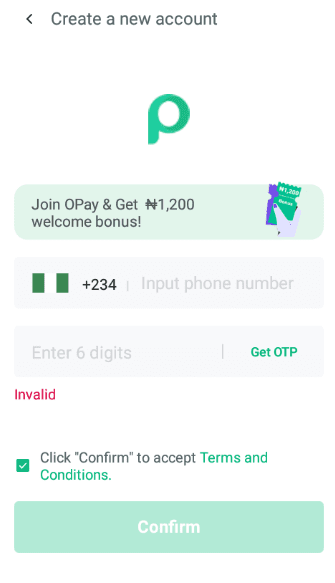 Opay will ask you to provide your phone number and click on "Get OTP." A 6-digit verification code will be sent to you for phone number authentication. Enter the code and click the "Confirm" button to move to the next section.
Note that the phone number you provide is your Opay account number.
Step 5: Set a password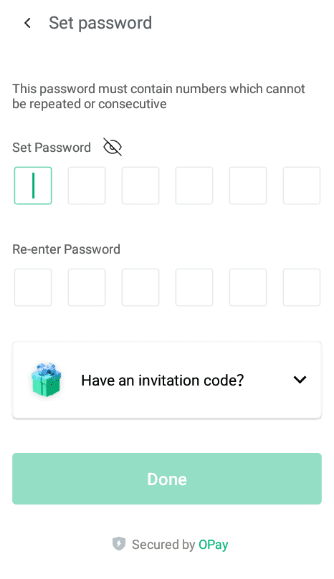 Enter your preferred password and re-enter it to confirm. You must use non-repeating and non-consecutive numbers in this password.
Also, if you have an invitation code, you can enter it at this stage. OPay usually pays new users an N1,200 welcome bonus when they sign up using an invitation or referral code. However, you must deposit at least N1,000 into your Opay account to enjoy this bonus.
The Opay invitation or referral code is 7062390434. Use the code to enjoy the welcome bonus. Otherwise, click "Done" to move to the next stage.
Step 6: Provide your personal information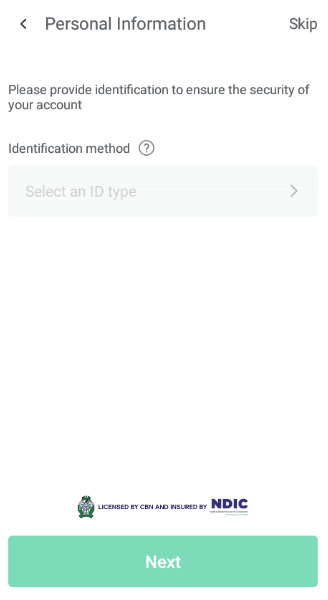 You will be requested to provide your identification to ensure the security of the account. This can be your Bank Verification Number (BVN), National Identification Number (NIN), Phone number, or bank account. Simply select your preferred method of identification and click "Next."
Step 7: Enter your address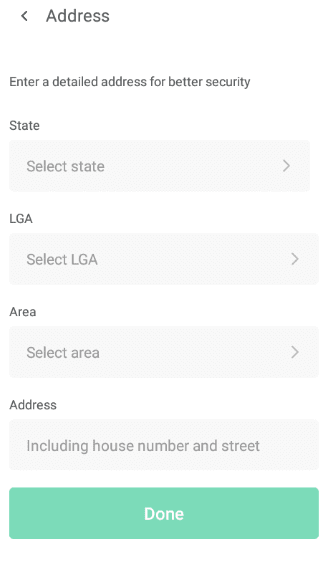 You have to enter a detailed address for better security by filling in your state, LGA, area, and residential address, and then click "Done" to complete the account opening process.
Step 8: Your Opay account is now ready for use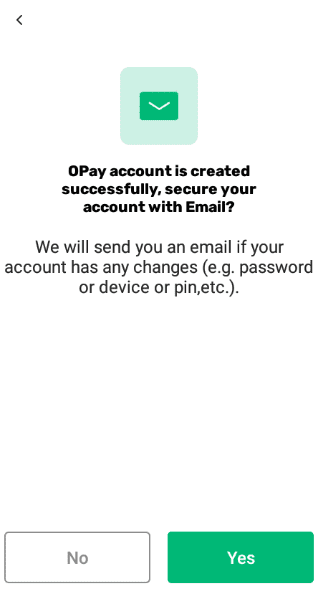 Congratulations! You have successfully opened an Opay account. You will see a message on your screen like the one shown above.
Opay will also request your email address on the next screen. They usually send a notification via email if your account has any changes (e.g., password, device, pin, etc.).
You May Also Like: PalmPay Login With Phone Number, Email, PIN, And More
Opay Sign-Up Bonus
OPay usually pays new users a N1,200 welcome bonus when they sign up using the referral code. However, you must deposit at least N1,000 into your Opay account to enjoy this bonus.
The Opay invitation/referral code is 7062390434. Use the code to enjoy the welcome bonus.
Aside from the welcome bonus, you can make a cool amount of money by simply referring users. For each user you refer, you get up to N800.
Additionally, you can enjoy up to 20% cashback when you make transfers, buy airtime or data, and perform some other transactions. They also offer free N10 cashback daily.
Opay USSD Code
The Opay USSD code is *955#. This code is a very convenient and easy-to-use way for users to carry out a variety of financial transactions, such as transfers, paying bills, buying airtime and data, and more, using their mobile phones.
To make use of this code, users need to dial *955# on their mobile phones and follow the prompts. The service is available 24/7 and can be accessed by anyone with a mobile phone and a valid SIM card.
Note that this can only work if you have an account with the platform.
How to Transfer Money From Opay to Bank Account
To transfer money from your Opay wallet to a bank account, follow these steps:
Open the Opay app on your mobile device and log in to your account.
Select the "Transfer" option from the main menu.
Choose the "Bank" option.
Enter the amount you want to transfer and the recipient's bank account details (account name, account number, and bank name).
Confirm the details and click on the "Transfer" button.
Enter your Opay PIN or provide any other requested security information to authorize the transfer.
Wait for the transfer to be processed. This usually takes a few minutes, but it can take up to 24 hours, depending on the recipient bank.
Once the transfer is completed, you will receive a confirmation message from Opay. You can also check your transaction history in the app to confirm that the transfer was successful.
How to Fund Your OPay Wallet
There are several ways to fund your Opay account. Opay has provided its users with numerous ways to add money to their accounts, even more than some traditional banks. This platform aims to make financial transactions very easy and flexible.
You can fund your Opay account using the following:
Top-up with card or account
Cash deposit with a nearby merchant
Bank USSD
Request money from others
Scanning of a QR code by showing the code to any Opay user.
How to Check Opay Account Balance
You can check your Opay account balance using their USSD magic code or through their app.
To check your Opay account balance using their USSD code, follow the steps below:
Dial *955#
On the next screen, select number 4 (Balance).
They will request that you enter your 6-digit login PIN. Kindly enter to proceed.
Your balance will be displayed on the next screen. This will include your main balance, Owealth balance, Fixed balance, Target balance, Spend and Save balance, and Cashback balance.
To check your account balance via the app, simply log in to your Opay app and click on the eye slash icon close to Total Balance, and your account balance will display.
How to Delete an Opay Account
Maybe you have more than one Opay account, or if, for reasons best known to you, you want to delete your account, their is an option for you to do that.
However, it's highly recommended to withdraw your money from the account before deleting it, as you will not be able to recover your funds after the account is deleted.
To delete your Opay account, you have to contact Opay customer care support by composing an email explaining why you want to delete the account. A customer care representative will attend to you and guide you through the process of deleting your account.
Kindly note that Opay doesn't provide an option for users to directly delete their accounts on their own for now.
Frequently Asked Questions About Opay Sign-Up/Account Opening
Who Owns Opay?
A Chinese billionaire and entrepreneur, Yahui Zhou, who also serves as the chairman and co-CEO of the popular browser, Opera, owns Opay.
Does The Central Bank of Nigeria license Opay?
Yes, Opay is fully licensed by the Central Bank of Nigeria (CBN).
How Much Can an Opay Account Hold Without BVN?
The maximum amount of money that can be held in an OPay account without a Bank Verification Number (BVN) is N50,000. However, an Opay account can hold unlimited money when the BVN is linked.
Is My Phone Number my Opay Account Number?
Yes, your phone number is your Opay account number, but the first zero at the beginning of your number is excluded.
For example, if your phone number is 07022445566, your Opay account number will be 7022445566.
Opay Sign Up/How to Open an Opay Account: Conclusion
Opening an Opay account is a straightforward process. With just a few clicks on the Opay mobile application, users can sign up and start enjoying the convenience and amazing financial services offered by the platform.
In summary, all you have to do is download the app, get started by providing the information required, and you are done.
At this point, I believe you have gone through this article and understand everything you need to know about Opay sign-up or how to Open an Opay Account.
Now let's hear from you!
What do you have to say about this Opay?
Also, don't forget to reach us via the comment section below if you need further assistance or are confused.
Source: TrendingNow.ng