Drama in Nigeria as armed bandits/terrorists arrested a thief and handed him over to authorities, in Katsina State.
This middle-aged man whose identity is not yet revealed specialized in stealing iron bars and uprooting metal rods from buildings located in the desert, in the state.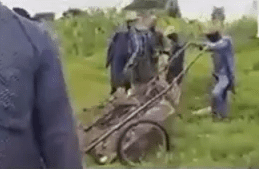 Information has it that, he was caught by bandits/terrorists who were on a mission to a particular Local Government in Katsina State.
In the video seen, these bandits were on a patrol on their motorcycles when they came in contact with the thief. They were having sophisticated weapons with them.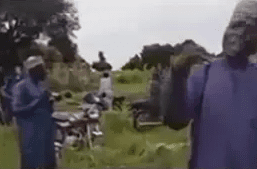 The video also shows how the terrorists were parading the thief inside a cart in the presence of the authorities in the community.
In their words, "Don't you know that stealing is a criminal offense? You are lucky that we are handing you over to authority we could have executed you for engaging in criminal activities."
According to the report, these bandits did not just hand the thief over to the authorities but also make sure that they deal with him.
What's your opinion concerning this? Let us know what you have to say about this by commenting below!