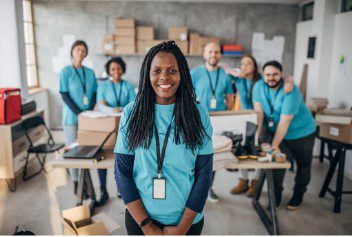 Last updated on September 15th, 2023 at 02:04 pm
Welcome to Trending Now! Are you looking for NGO jobs in Abuja? If so, then you are in the right place. Continue reading. The following is what you are going to gain from this article:
How to find job openings at non-governmental organizations (NGOs) in Abuja, Nigeria
How to learn more about the NGO sector in Abuja and the types of jobs that are available
How to connect with NGOs in Abuja, work with them, or learn about their work
How to apply for a job at an NGO in Abuja
The salary range for NGO jobs in Abuja
NGO Jobs in Abuja
Getting a job with an NGO in Abuja is no doubt the dream of many people in Nigeria. If you ever want to get a job with an NGO, know that you are not alone; a lot of people are looking for this opportunity.
What are NGO jobs?
NGO jobs refer to employment opportunities within Non-Governmental Organizations (NGOs). They are organizations that are independent of government control and are usually driven by a specific mission or cause.
They are often involved in various charitable, humanitarian, developmental, and advocacy activities aimed at addressing social, environmental, and economic issues. These organizations work on a wide range of issues, including poverty alleviation, education, health, and human rights.
Abuja, which is the capital city of Nigeria, is not only known for its political significance but also for its thriving social and humanitarian sectors.
If you are passionate about making a difference in the world, then an NGO job in Abuja could be the perfect opportunity for you.
Types of NGO Jobs in Abuja
Below are some common types of NGO jobs in Abuja:
1. Program Manager/Coordinator
Program managers or coordinators play a crucial role in planning, implementing, and overseeing the various projects and initiatives run by NGOs. They ensure that programs are executed effectively, monitor progress, manage budgets, and coordinate teams to achieve the organization's goals.
2. Fundraising and Development Officer
This part is very essential for NGOs to sustain their operations and expand their impact. Fundraising and development officers are responsible for devising and executing fundraising strategies, cultivating donor relationships, organizing fundraising events, and writing grant proposals to secure funding.
3. Communications Specialist
NGOs need effective communication to raise awareness about their work, engage with stakeholders, and advocate for their causes. Communications specialists handle public relations, social media management, content creation, and marketing campaigns to convey the organization's message to a broader audience.
You may also like:
4. Research and Policy Analyst
NGOs often work on research and policy initiatives to drive systemic change. Research and policy analysts gather data, conduct studies, analyze trends, and develop policy recommendations to influence decision-making at the governmental and institutional levels.
5. Field Officer/Community Outreach Coordinator
Field officers or community outreach coordinators work closely with local communities to implement on-the-ground projects. They collaborate with community members, manage partnerships, organize workshops, and ensure that the organization's work aligns with the needs of the target population.
6. Gender and Advocacy Specialist
Gender-focused NGOs hire specialists to address issues related to gender equality and women's empowerment. These professionals design and implement programs, conduct advocacy campaigns, and collaborate with stakeholders to advance gender-related initiatives.
7. Education and Training Coordinator
NGOs often work to improve educational opportunities, especially in underserved areas. Education and training coordinators develop curriculum, design training programs, and work with local schools and communities to enhance educational outcomes.
8. Health and Nutrition Officer
NGOs working in healthcare and nutrition hire professionals to manage health-related projects, design health programs, coordinate medical services, and collaborate with local healthcare providers to improve community health.
9. Environmental Specialist
Environmental NGOs focus on conservation, sustainability, and environmental advocacy. Specialists in this field work on initiatives such as tree planting, waste management, clean energy promotion, and climate change adaptation projects.
10. Project Accountant/Finance Officer
Financial management is crucial for the success of NGOs. Project accountants or finance officers handle budgeting, financial reporting, expense tracking, and compliance with financial regulations.
11. Human Resources Manager
Larger NGOs require human resources managers to oversee recruitment, employee relations, training and development, and compliance with labor laws.
12. Legal Advisor
NGOs may employ legal advisors to ensure their operations and programs adhere to legal and regulatory frameworks. They provide legal guidance, draft contracts, and handle legal compliance matters.
Skills and Qualifications Needed for NGO Jobs in Abuja
To excel in NGO jobs in Abuja, candidates need a combination of skills, qualifications, and personal attributes that align with the unique challenges and objectives of the sector.
Below are some essential skills and qualifications that can make you a strong candidate for NGO positions in Abuja:
Communication skills: Strong communication skills, both written and verbal, are essential for working in an NGO. You will need to be able to communicate effectively with a variety of people, including staff, volunteers, donors, and beneficiaries.
Problem-solving skills: NGOs often work on complex issues, so it is important to be able to think critically and solve problems. You will need to be able to identify and assess problems, develop solutions, and implement them effectively.
Teamwork skills: NGOs rely on teamwork to achieve their goals. You will need to be able to work effectively with others, both within your own organization and with other organizations.
Leadership skills: In some cases, you may be required to take on leadership roles within an NGO. This could involve managing staff, volunteers, or projects.
Flexibility: NGOs often have to adapt to changing circumstances, so it is important to be flexible and adaptable. You will need to be able to handle change and uncertainty.
Resilience: Working in an NGO can be challenging, so it is important to be resilient. You will need to be able to handle setbacks and keep going.
Passion: Working for an NGO is a calling, not just a job. You need to be passionate about the work that you do and the difference that you can make.
How to Find NGO Jobs in Abuja
Finding NGO jobs in Abuja requires a strategic approach that involves utilizing various resources and networking avenues. Here are some effective steps to help you find NGO job opportunities in the capital city of Nigeria:
1. Online Job Boards and Websites
Check out dedicated job boards and websites that specialize in listing NGO job openings in Abuja. Some of the popular websites where you can access NGO jobs in Abuja are:
2. NGO Websites and Social Media
Visit the official websites and social media pages of prominent NGOs in Abuja. They often post job openings on their platforms. Follow and engage with these organizations to stay updated.
3. Local Newspapers and Magazines:
Check the classifieds section of local newspapers and magazines in Abuja. Some NGOs may advertise job openings in print media.
4. Networking Events and Workshops
Attend networking events, workshops, seminars, and conferences related to the NGO sector. These gatherings provide opportunities to connect with professionals already working in NGOs and learn about job openings.
5. LinkedIn and Professional Networks
Create a comprehensive LinkedIn profile that highlights your skills, experience, and passion for the NGO sector. Connect with professionals in the field, join relevant LinkedIn groups, and keep an eye out for job postings.
6. Recruitment Agencies and Consultancies
Some recruitment agencies and consultancies specialize in placing candidates within the NGO sector. Partnering with these agencies can broaden your job search's reach.
7. Government and International Organizations:
Explore job opportunities with government agencies and international organizations that collaborate with NGOs. These partnerships often lead to cross-sectoral employment possibilities.
8. Online Forums and Groups
Participate in online forums, groups, and communities dedicated to NGO work. Websites like Reddit, Quora, and Facebook groups can provide insights into available job opportunities.
Top NGOs in Abuja
Below are some of the top NGOs in Abuja, Nigeria:
ActionAid International Nigeria
CARE Nigeria
Plan International Nigeria
Save the Children, Nigeria
Plan International Nigeria
African Youth Growth Foundation (AYGF)
Centre For The Right to Health
Education As A Vaccine Against Aids (EVA)
Empowered To Empower (E2E) Initiative
Excellence Community Education Welfare Scheme.
Salary Range for NGO Jobs in Abuja
The salary range for NGO jobs in Abuja varies depending on the position, experience, and qualifications of the applicant. However, a general overview of the salary range is as follows:
Entry-level positions: NGN 80,000 to NGN 100,000 per month
Mid-level positions: NGN 150,000 to N300,000 per month
Senior-level positions: NGN 300,000 to NGN 500,000 per month
For example, a Program Coordinator with 2 to 3 years of experience can expect to earn between NGN 150,000 and NGN 200,000 per month. A Project Manager with five or more years of experience can expect to earn between NGN 250,000 and NGN 350,000 per month. And a Director of Programs with 10+ years of experience can expect to earn between NGN 400,000 and NGN 500,000 per month.
Of course, these are just general ranges, and the actual salary offered will vary depending on the specific organization and the terms of the individual's contract.
Roundup
Working for an NGO can be a rewarding experience. It is a great way to make a difference in the world and to help those in need. If you are looking for a fulfilling career, consider working for an NGO.
Are you interested in working with an NGO in Abuja?
There are a few things you can do to increase your chances of getting a job. First, make sure you have the necessary skills and experience for the position you are applying for. Second, network with people who work in the NGO sector. Third, research different NGOs and find one that you are passionate about. Finally, tailor your resume and cover letter to each specific job you apply for.
I hope this article is helpful!
As usual, you can use the comment section below if you have any questions or comments.
Source: TrendingNow.ng